As technology has advanced, more power has been packed into smaller devices. Laptops have been designed to have smaller screens and to be thinner to promote portability. The pandemic changed so much about how we work and live. The rise of remote work has given employees unprecedented flexibility and freedom to focus on tasks from the comfort of their homes. It has also meant that many of us are spending more time in our home offices.
The need for portability has primarily been replaced with a greater demand for convenience and more digital screen space than a traditional laptop screen can provide. That's why many people are investing in digital monitors to enhance their workflows and optimize their home offices.
However, many monitors require two cables in order to function correctly – a display cable and a power cable. This can be inconvenient in a home office where a power outlet may not be available. Furthermore, two cables add to the clutter and reduce flexibility. Fortunately, there is a solution – the EM series of USB Type-C monitors.
This line of monitors connects to your laptop through a single USB Type-C cable, cutting down on clutter and enabling you to get your home office up and running instantly. Today, we're going to share the 5 reasons to choose an EM-Series USB-C monitor.
Table of contents
Reason #1: State-Of-The-Art USB Type-C Monitors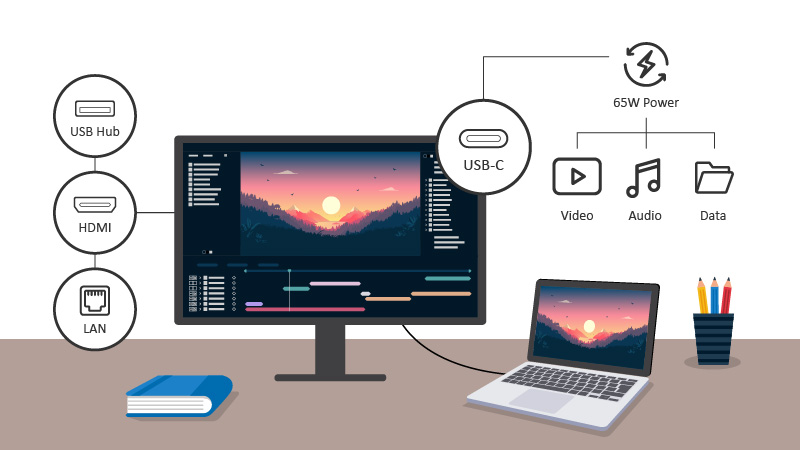 EM-series monitors from AG Neovo are equipped with state-of-the-art USB Type-C connectivity. This means that you can get started working faster. You only need to take it out of the box and plug in the single cable. You can instantly expand your screen space and get more done using a monitor like this.
Laptops and tablets are portable but lack the convenience and power of a larger screen. A USB-C display is one of the fastest and easiest devices to get working quickly. USB 3.1 Type-C transfers data at 10Gbps. This speed is 20 times faster than USB 2.0 and 2 times faster than USB 3.0. This means faster speeds and a more satisfying experience.
Because the monitor is only powered by a single cable, you can create a more functional, neat workspace in your home or office. You don't need to deal with that tangled bunch of HDMI, power cords, or Display Port cables.
Our EM-series USB Type-C monitors also support reverse charging. If the battery is running low on your laptop or tablet, you can keep it charged using power from the monitor and ensure that you can get important work done. You need to ensure that the device supports USB Power Delivery.
Reason #2: Higher Resolution 1440p vs. 1080p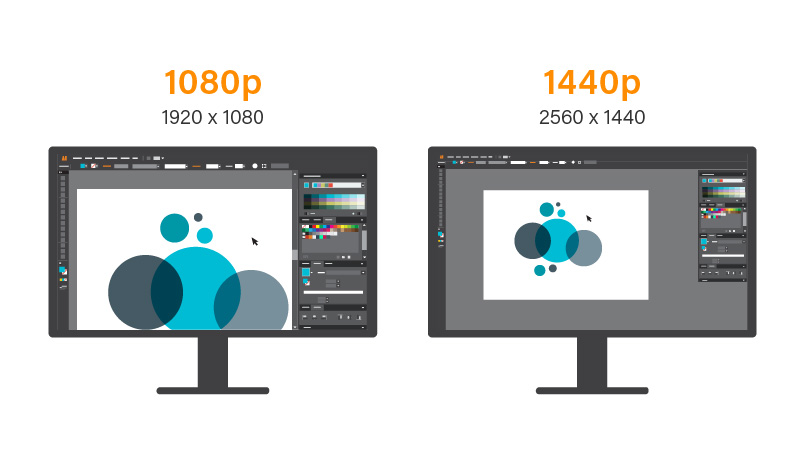 Many laptops and tablets feature a max resolution of 1080p. By contrast, EM-Series USB Type-C monitors possess 1440p resolution, enabling you to get more done.
Remote workers often have a variety of programs open at the same time as they work throughout the day. The larger screens these monitors provide allow you to pull up multiple programs and easily see everything. This increased screen of real estate also means you can read articles and see program windows completely with less scrolling.
If you are producing video or working on graphics, you will appreciate the seamless multitasking and high levels of detail provided by 1440p resolution. When editing documents, seeing text and comparing the content with sources or other material is more manageable. You only need to run a simple calculation to get an accurate idea of how much sharper the image quality is. A 1080p screen displays about 2 million pixels, while 1440p displays about 3.6 million pixels. That's nearly double the detail!
Reason #3: Broader Range of Color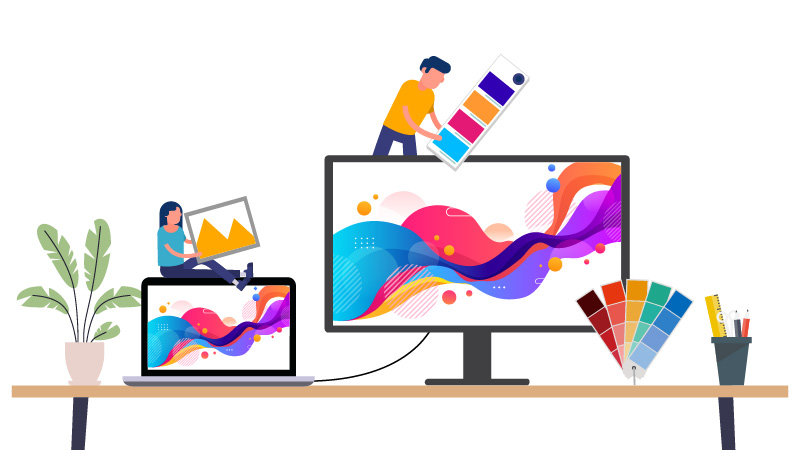 If you are a creative professional, working with a monitor that provides a broad range of colors is important. Working with a basic laptop screen or a similar device can result in creative projects that may look okay on one screen but terrible on others.
You need a monitor that is capable of reproducing accurate colors. With an EM-Series graphic design monitor, that's exactly what you get. Our monitors possess a color space encompassing sRGB, DCI-P3, and Adobe RGB. The monitor comes pre-calibrated, saving you time manually calibrating colors.
For web designers who are striving for color accuracy, our monitors achieve nearly 99% sRGB color coverage. A broader color space also gives you more granularity in image editing and improves printing. Monitors that support a variety of color spaces save you from having to convert certain images to different color spaces and help you to work faster. This makes them the perfect tool for artists and graphic designers.
Reason #4: Ultrawide 21:9 Aspect Ratio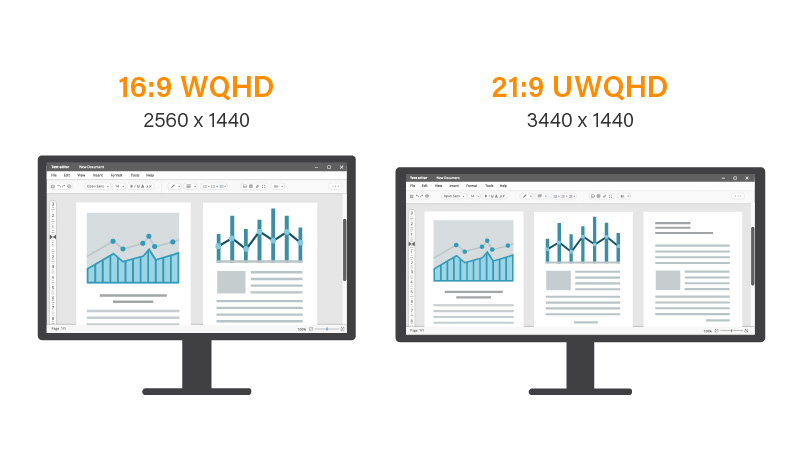 Screen space is one of the biggest reasons to invest in a separate monitor. Our EM3401UQC monitor is equipped with even more screen space because it is an Ultrawide monitor. Instead of relying on two monitors to extend your screen space, you can get the advantage of one large screen without any gap in the middle. A 21:9 monitor provides 33% more working space.
Additionally, our USB-C monitors have faster rates of a refresh than other screens and are equipped with adaptive sync performance. These features can enhance your gaming experience and provide a smoother video experience.
Reason #5: Ergonomic Design
Sitting hunched over your laptop as you strain your eyes to see the fine details on a PowerPoint slide is uncomfortable and unhealthy. A large external monitor such as the ones in the EM-Series features an ergonomic design, enabling you to create a more comfortable working environment.
Our monitors have tilt, pivot, swivel, and height adjustment features to get the right viewing experience for your needs. Reading a long vertical document? Simply rotate the screen into portrait mode and read with ease.
Learn More About Our EM-Series USB Type-C Graphic Design Monitors Today!