NeoV Optical Glass Screen
The monitor with NeoV glass screen is designed to bring users supreme image performance, LCD panel protection, and easy maintenance.
To complete one glass takes 5 rigorous procedures, each step requires the inspection to examine any bubbles, stone scratches, or any other flaws that could potentially reduce or damage the screen quality. Since receiving a "Best Innovation" award from PC Magazine, NeoV monitor with glass screen has become the industry's most trusted monitor with high-level protection.
Designed to specifically to address the challenges of multi-user and public environments, NeoV™ optical hard glass screen is a specially formulated, hardened optical glass – with proprietary multilayer coating – to enhance image quality, and protect the LCD panel from any incidental damage incurred in high-volume environments.
LCD Panel Protection
The NeoV Glass screen on the computer monitor adheres to a stringent manufacturing process that hardens the glass screen for added strength and quality. As with a typical LCD screen, the panel hardness only reaches 2 (out of 10) on the Mohs hardness scale, so the panel can be easily scratched or damaged.
With NeoV, the screen reaches a 6 on the Mohs scale. This hardness will protect the panel from dirt, repetitive touching, or other visual interruptions by unexpected accidents that damage the LCD panel and daily workflow.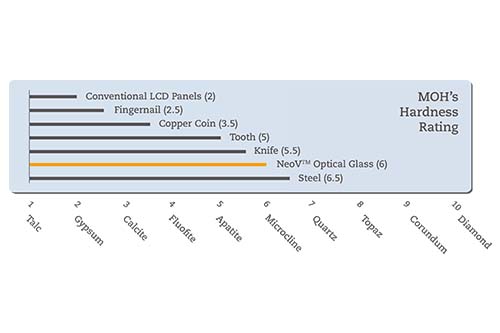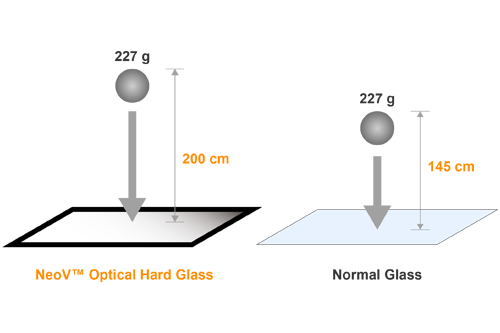 High Impact Resistance
Considering the safety concern, the NeoV prevents computer screens from physical damage caused by an accidental crash. It resists forces up to 227g steel ball free-falling from a height of 200cm. The impact resistance capability is equivalent to the IK07 rating protection.
Maintenance Made Easy
NeoV™ glass monitor screen has passed the CNS (13033) A-level abrasion acid test and B-level alkali test. This great monitor with a glass screen can be easily cleaned and disinfected with water, alcohol, and other common cleaning solutions.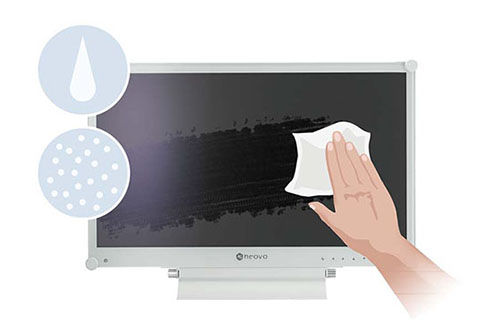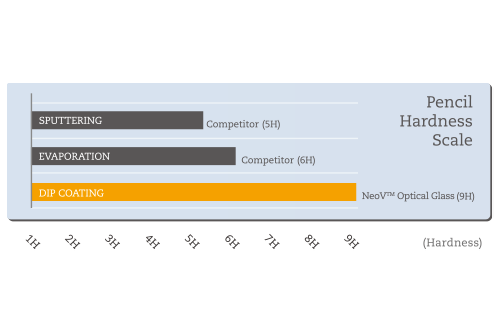 Anti-Scratch Surface
Provides unparalleled resistance to scratches; the coated surface of NeoV glass computer screen reaches 9H, the highest grade on the pencil hardness scale.
Water and Dust Resistance
Protect LCD screens from dust and water; prolong monitors life performance in dusty and damp environments.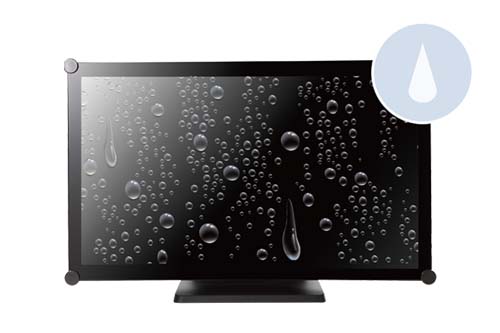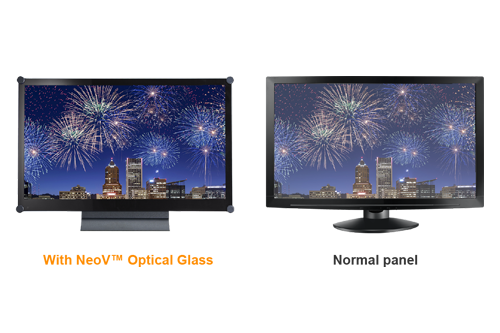 Glossy Monitors with Vivid Color
Protect LCD screens from dust and water; prolong monitors life performance in dusty and damp environments.
Anti-Reflective Coating
The NeoV monitors possess a multi-layer coating. It is capable of decreasing glare and reflection from 8% to 0.86%, which results in an 89.3% visual improvement.
High Transmittance
With a high 98.60% transmittance rate, the NeoV™ monitor with optical hard glass screen provides nearly perfect brightness. In a typical glass, the transmittance is 91.46%. Both the transmittance and reflectance can be custom-made to fulfill various environmental and customer needs.