Displays in BKS Networked Worlds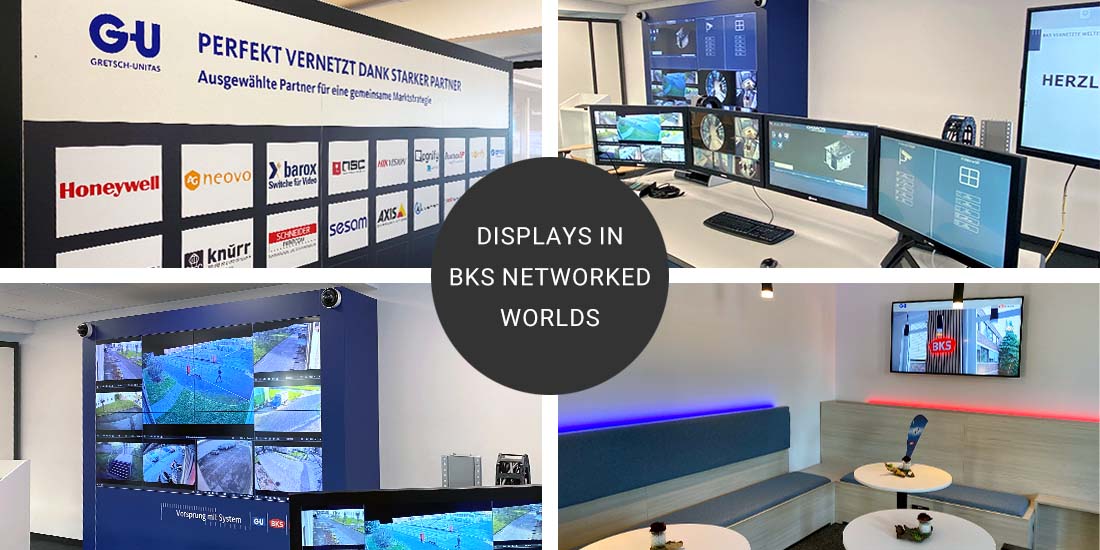 "We would like to thank the entire AG Neovo team for the excellent cooperation on the show room concept. We can always rely on our partner's broad professional product portfolio for our practical projects. We would like to invite all interested parties to Velbert."

– Mr. Jan Rippen, Sales Manager, DACH BKS Connect and Mr. Christof Kraka, Sales Engineer
Client Background
The Gretsch-Unitas Group, comprising GU, Ferco, and ela-soft brands, is an internationally active group of companies specializing in unlocking, moving, locking, and securing solutions across various environments. Their products enjoy an excellent reputation in global markets. In November 2021, they unveiled a 1000m² showroom in Velbert, North Rhine-Westphalia, under the theme "BKS Networked Worlds," showcasing comprehensive solutions, including AG Neovo's wide range of professional monitors.
Challenge or Problem
The challenge was to create an engaging showroom that effectively demonstrated the wide array of security solutions offered by the Gretsch-Unitas Group, incorporating AG Neovo's monitor technology seamlessly. With the shift away from traditional exhibitions and in-person demonstrations, the need for an innovative and immersive showcase was paramount.
Solution
AG Neovo, known for its broad product portfolio of professional monitors, became an integral part of the "BKS Networked Worlds" showroom. Their reliability, professionalism, and high-quality products perfectly complemented the Gretsch-Unitas Group's commitment to providing outstanding complete solutions.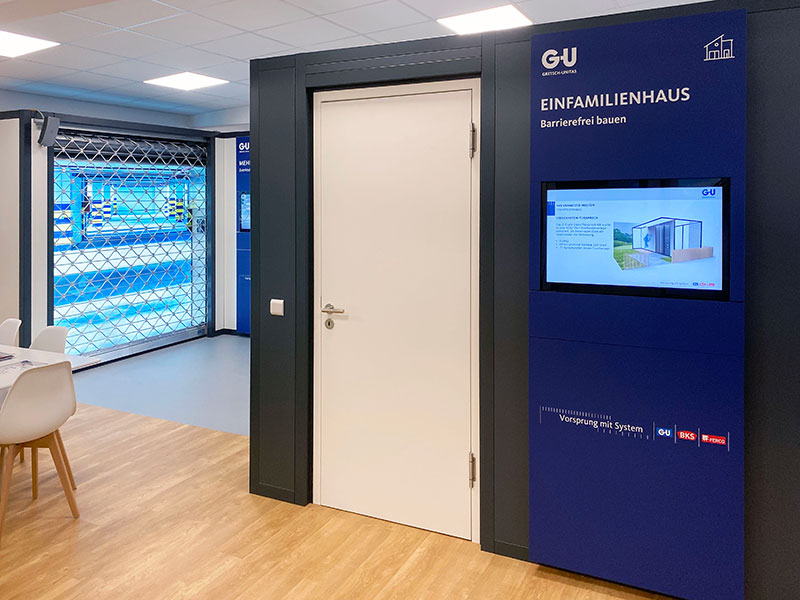 Execution Process
Visitors to the showroom are welcomed into the BKS Coffee Lounge, featuring the QM-55 4K/UHD signage display, where they can enjoy a coffee before embarking on a tour. The showroom boasts solutions for single and multi-family homes, powered by intuitive and interactive touch displays from AG Neovo's TX series, ranging from 10″ to 43″. These displays, known for their scratch resistance and front-side IP65 rating, are ideal for these applications.
The centerpiece of the showroom is a video wall consisting of 4 PN-55D monitors, a connected control station, 4 QX-28 monitors, and a Meetboard™ IFP-7502. This setup showcases the GEMOS system, developed by ela-soft, a Gretsch-Unitas Group brand, with an integrated video management system. The almost frameless 24/7 monitors from AG Neovo's PN-Series can accommodate presentations for approximately 70 viewers. For smaller groups, the 75″ 4K/UHD Meetboard™ with its versatile functions and apps for drawing, presenting, mobile data exchange, and interactive group work is the preferred choice. The attached operator station features QX-Series 24/7-NeoV™ glass displays in 4K/UHD, delivering brilliant images in continuous operation.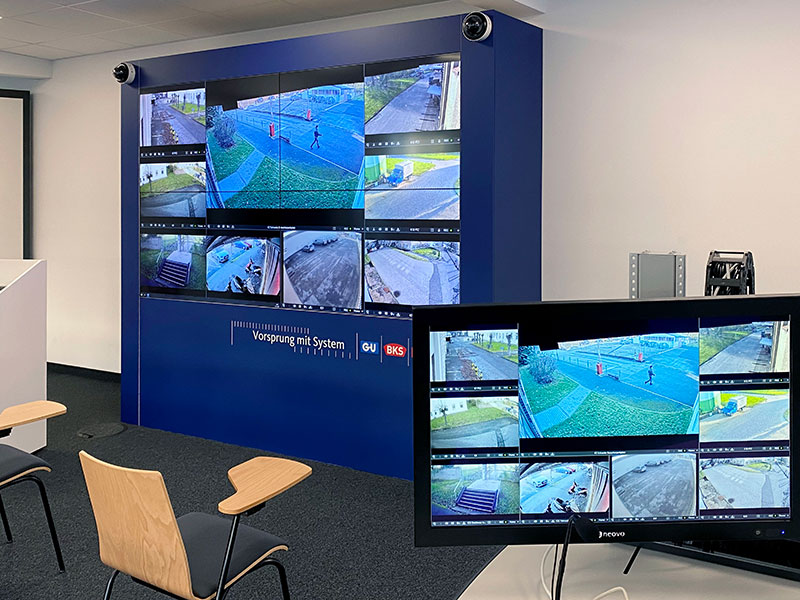 Additional scenarios are a hotel solution, including a robust and uniquely designed QX-28 as a video preview monitor and a QM-55 for infotainment, as in the lounge at the beginning of our tour. Nearby, visitors can view BKS solution walls for intrusion and fire detection. Finally, we can experience security-related solutions for data centres, retail, hospitals and correctional facilities as well as for vertical markets typical for AG Neovo. Each with brilliant images with a variety of AG Neovo displays, appropriate to the respective environment, e.g., the SX-Series, an award-winning series in the security market.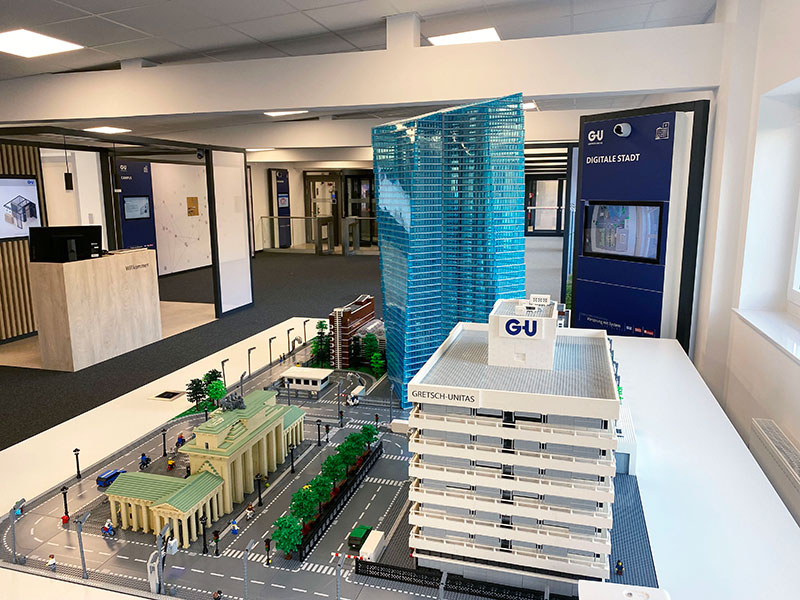 The showroom also presents scenarios for hotel solutions, intrusion and fire detection, data centers, retail, hospitals, correctional facilities, and vertical markets typical for AG Neovo, all with AG Neovo displays tailored to the respective environments, including the award-winning SX-Series.


Results and Benefits
The "BKS Networked Worlds" showroom, with AG Neovo's cutting-edge monitors at its core, provides an immersive and educational experience for visitors. It effectively addresses the challenges of showcasing security solutions in a post-pandemic world where in-person interactions are limited. The partnership between BKS Connect and AG Neovo continues to deliver high-quality solutions to end customers, operators, and installers.
Client Testimonial
Jan Rippen, Sales Manager, DACH BKS Connect, and Christof Kraka, Sales Engineer, express their gratitude: "We would like to thank the entire AG Neovo team for the excellent cooperation on the showroom concept. We can always rely on our partner's broad professional product portfolio for our practical projects. We would like to invite all interested parties to Velbert."
Conclusion
The collaboration between BKS Connect and AG Neovo has resulted in a remarkable showroom that effectively showcases the latest security solutions. AG Neovo's professional monitors play a pivotal role in enhancing the immersive experience for visitors. The "BKS Networked Worlds" showroom stands as a testament to the successful partnership between these two industry leaders.
Additional Resources
Interested parties are encouraged to visit Velbert to experience the "BKS Networked Worlds" showroom firsthand. For more information and on-site demonstrations, please contact your BKS Connect representative.
---