Displays in BKS Networked Worlds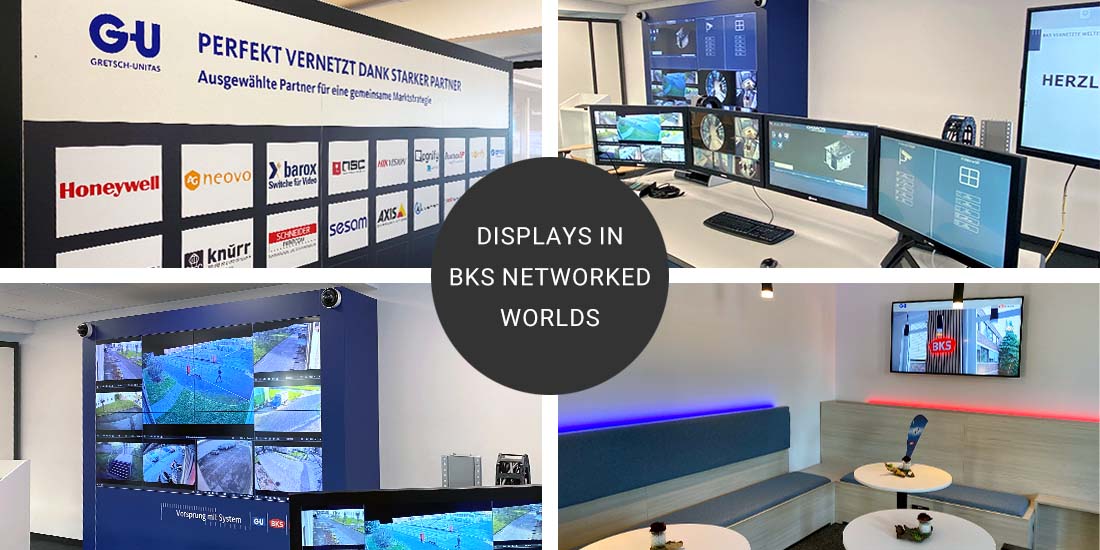 We would like to thank the entire AG Neovo team for the excellent cooperation on the show room concept. We can always rely on our partner's broad professional product portfolio for our practical projects. We would like to invite all interested parties to Velbert.

Mr. Jan Rippen, Sales Manager, DACH BKS Connect and Mr. Christof Kraka, Sales Engineer
The Gretsch-Unitas Group is a family-run, internationally active group of companies dedicated to unlocking, moving, locking and securing in virtually all environments. The GU, Ferco and ela-soft brands have a very good reputation in their markets worldwide. On November 3, 2021, a new 1000m² show room was opened in Velbert (North Rhine-Westphalia) under the motto "BKS Networked Worlds." The professional monitor manufacturer AG Neovo with their broad product portfolio is integrated in all solutions.
BKS with AG Neovo – a partnership characterized by reliability, professionalism and high-quality products that offer end customers, operators and installers outstanding complete solutions. Let's take a walk through the BKS Networked Worlds, after we have enjoyed a coffee in the lounge, under the QM-55 4K/UHD signage display.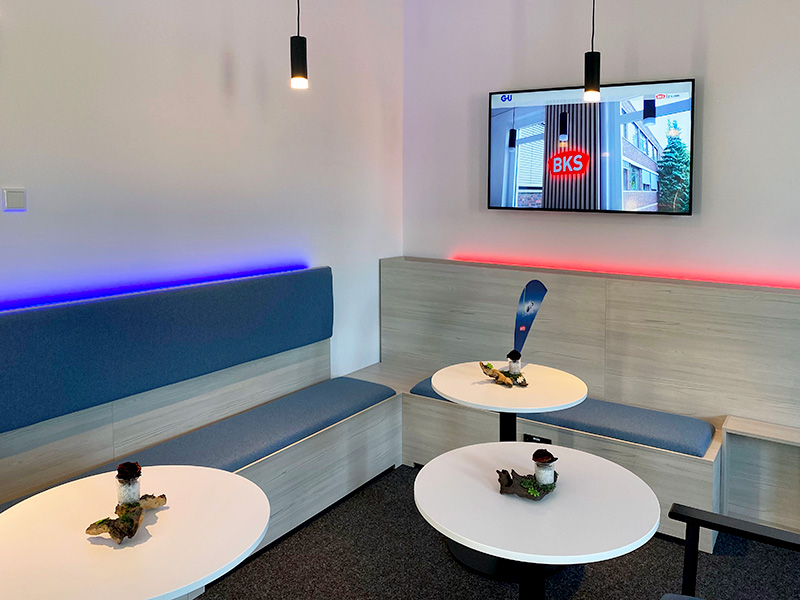 In our tour we are greeted by a sign listing all of the showroom's market-leading partner manufacturers. For monitors, this means AG Neovo. The first technical worlds are the solutions for single and multi-family homes, where the intuitive and interactive touch displays TX-3202 provide a state-of-the-art operating concept. The scratch-resistant and front-side IP65 rated displays from the TX series from 10" to 43" are pre-destined for these applications. Via the real star of the show, a digital city made of Lego bricks and a drone landing pad on the roof, we have already reached the heart of the showroom.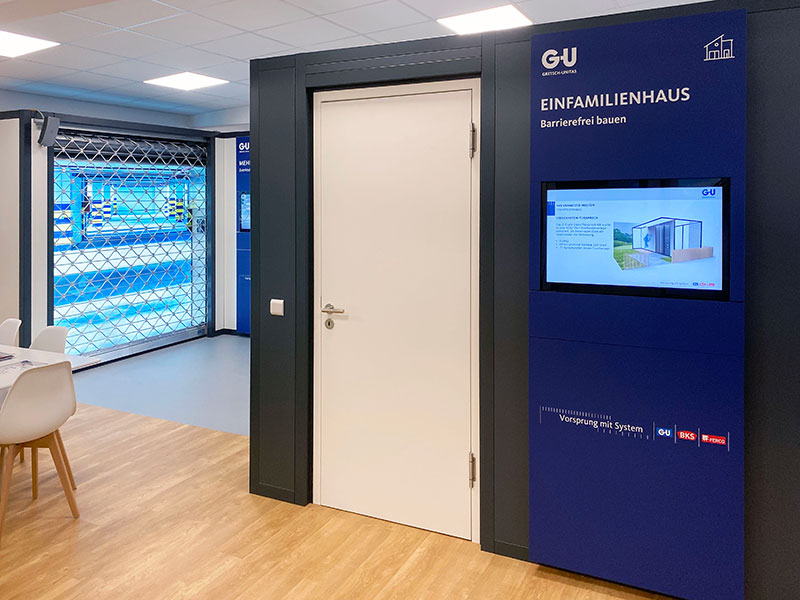 This is a video wall made up of 4 PN-55D with a connected control station, including 4 QX-28 as well as one Meetboard™ IFP-7502. The software-based system GEMOS (by ela-soft – a Gretsch-Unitas Group brand) with integrated video management system from a partner manufacturer can be experienced here with a fully equipped operator station. Of course, the video wall with its almost frameless 24/7 monitors of the PN-Series can also be used for presentations for approx. 70 viewers. For smaller groups, the 75" 4K/UHD Meetboard™ with its diverse functions and apps for drawing, presenting, mobile data exchange and interactive group work would be the best choice. The attached operator station with the QX-Series 24/7-NeoV™ glass displays in 4K/UHD is designed for brilliant images in continuous operation.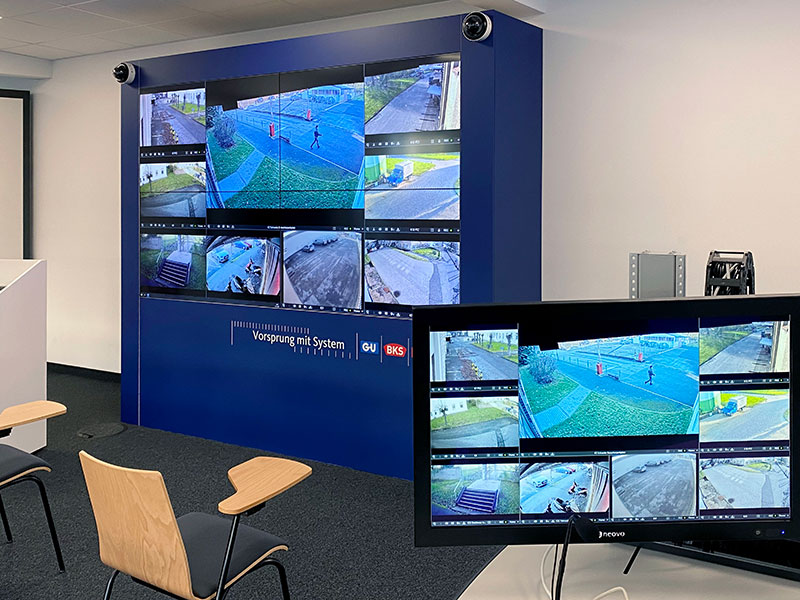 Additional scenarios are a hotel solution, including a robust and uniquely designed QX-28 as a video preview monitor and a QM-55 for infotainment, as in the lounge at the beginning of our tour. Nearby, visitors can view BKS solution walls for intrusion and fire detection. Finally, we can experience security-related solutions for data centres, retail, hospitals and correctional facilities as well as for vertical markets typical for AG Neovo. Each with brilliant images with a variety of AG Neovo displays, appropriate to the respective environment, e.g., the SX-Series, an award-winning series in the security market.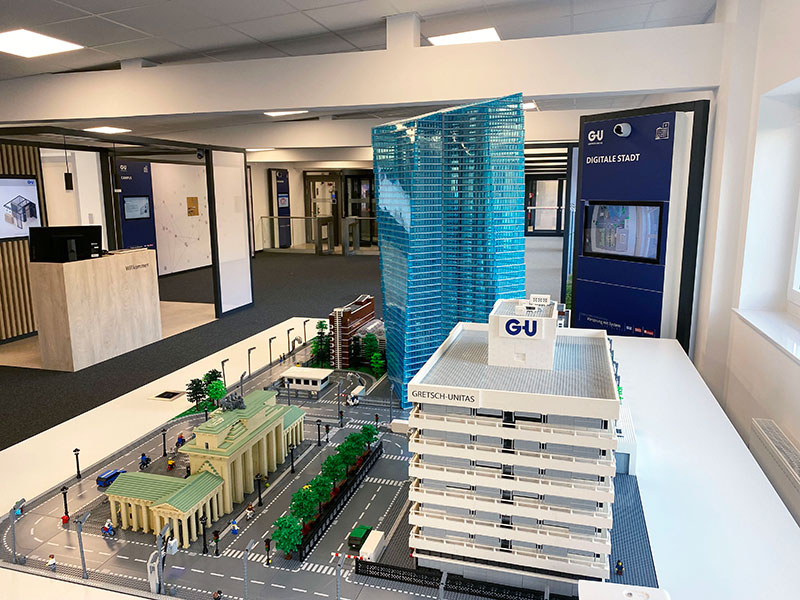 At the end of an exciting afternoon in Velbert, we would like to quote Jan Rippen (Jan Rippen, sales manager DACH BKS Connect) and the sales engineer responsible for the "Networked Worlds," Christof Kraka: "We would like to thank the entire AG Neovo team for the excellent cooperation on the showroom concept. We can always rely on our partner's broad professional product portfolio for our practical projects. We would like to invite all interested parties to Velbert."
---
You might also be interested in
View All