Case Study: United States – From TV Network Productions to Live Presentations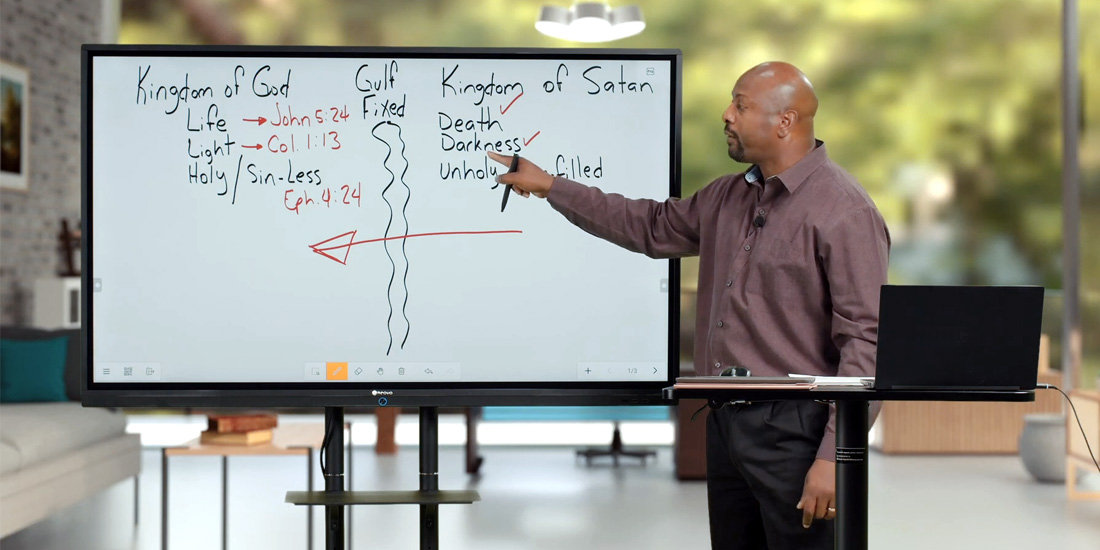 "Meetboard brought my TV production to life. It's become such a core component of my lessons."

– Mr. Kevin Madison, Founder of Treasure in Every Verse Ministry
Client Background
Kevin Madison, an accomplished educator, author, and community leader, has always valued enriching educational experiences. He sought to combine his expertise, faith-based teachings, and modern technology to deliver impactful lessons. AG Neovo saw the potential in this partnership, as we prioritize building dynamic relationships with clients who share our commitment to customer excellence.
Challenge or Problem
In the digital age, Kevin faced the challenge of providing engaging and interactive presentations to captivate his students. Relying on an outdated 86" whiteboard restricted his ability to incorporate multimedia elements and hindered seamless interaction. To elevate the quality of his Ministry and offer a comprehensive learning experience, he required a modern solution that could:
Display presentations, photos, and videos.
Facilitate quick annotations without physical tools.
Store and access data for future reference.
Solution
Eager to modernize his approach, Kevin explored several interactive smart board options, such as Vibe, Samsung, and Tiburon. None, however, fully met his requirements. The turning point arrived when he discovered AG Neovo's Meetboard, a revolutionary interactive display that aligned perfectly with his vision.
Execution Process
Our sales engineer, Francisco, provided Kevin with a comprehensive demo of Meetboard's capabilities. Recognizing its user-friendly interface, seamless integration, and ability to address his specific needs, Kevin decided to integrate Meetboard into his teaching methodology.
Results and Benefits
Meetboard's impact was immediate and substantial. Initially implemented for online videos and in-studio presentations, its influence expanded to Astros Studios, his TV Show Production partner. Meetboard played a crucial role in Network TV Production of Kevin's show, "Treasure in Every Verse Ministry," broadcasted worldwide. In addition, Meetboard enriched his in-person international education sessions. With Meetboard, Kevin could:
Craft high-quality illustrations for effective teaching.
Deliver live presentations directly on-screen, enhancing engagement.
Utilize diverse resources like diagrams, images, and graphics.
Seamlessly manage multitasking while maintaining focus.
Keep students engaged and eager to learn.
Captivate TV audiences with detailed illustrations and maps.
Enhance efficiency and production through multi-platform compatibility.
Leverage multi-screen functionality for dual-camera production.
Client Testimonial
According to Kevin Madison, "Meetboard has revolutionized the way I educate. Its intuitive interaction captivates students, making learning more exciting and effective. It's a core part of my lessons now."
Conclusion
Meetboard has empowered Kevin Madison's teaching journey, elevating his lessons through cutting-edge technology. The success of this collaboration showcases the transformative potential of AG Neovo's solutions in the field of education.
---