From TV Network Productions to Live Presentations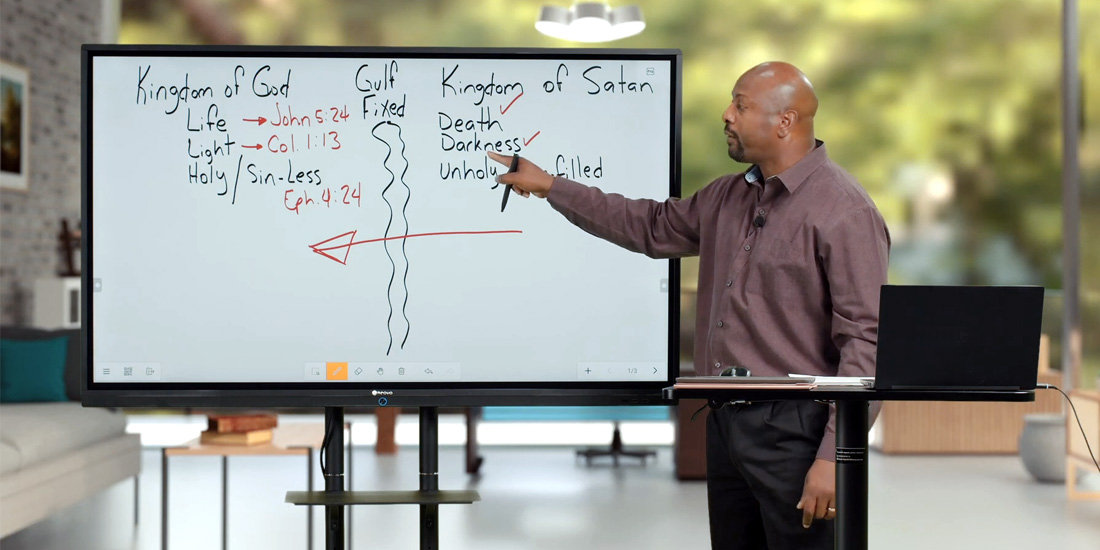 "Meetboard brought my TV production to life. It's become such a core component of my lessons."

– Mr. Kevin Madison, Founder of Treasure in Every Verse Ministry
EDUCATING OTHERS COMES NATURALLY WHEN YOU HAVE THE RIGHT RESOURCES
Throughout his career, Kevin Madison has built credibility as an educator, teacher, author, and community member through subject matter expertise, offering faith and value-based lessons, and using cutting-edge technology to teach others. That's why we knew we'd make great partners for Kevin when he first approached us — we're all about building trusting, dynamic relationships with clients who care deeply about their customers.
GIVING OUTDATED PRESENTATIONS IN A DIGITAL AGE IS CHALLENGING
Before meeting with AG Neovo, Kevin relied mostly on a traditional 86" whiteboard to conduct his presentations. He was unsatisfied with his whiteboard's lack of technological capabilities and wanted to improve the quality of his Ministry, but he didn't have the right tools. Without a smart board solution, he couldn't:
Show presentations, photos, or videos.
Quickly write or erase without physical supplies.
Save, store, and access data or files.
Since he wanted to provide a more comprehensive, high-tech experience and streamline his workflow, he searched for different interactive smart board options like Vibe, Samsung, and Tiburon. Still, he couldn't find the right solution for his business. Eventually, he found our team at AG Neovo, and we introduced him to Meetboard.
HOW MEETBOARD MADE A DIFFERENCE
Our sales engineer, Francisco, provided Kevin with a detailed demo of Meetboard. After reviewing its simplicity, easy-to-use interface, and ability to directly solve his primary pain points, Kevin ordered a Meetboard to bring his live presentations to the next level.
At first, Kevin implemented Meetboard into his presentation routine strictly for online videos produced in his in-home studio, then to Astros Studios, his TV Show Production partner. Within just a few successful presentations, Kevin moved Meetboard into Network TV Production of his show Treasure in Every Verse Ministry, which is currently being broadcasted Worldwide. Additionally, Kevin implemented Meetboard into the classroom for his in-person international education sessions. With Meetboard, he can:
Create higher-quality illustrations to teach his lessons.
Put live presentations directly on the screen, making his process more dynamic.
Leverage resources like diagrams, images, graphics, etc., to convey his message.
Multi-task more seamlessly without losing focus on his core lesson plan.
Keep students engaged and eager to learn more.
Captivate the TV audience with detailed illustrations and maps, enhancing education through visual aids.
Increase efficiency and production through Meetboard's multi-platform compatibility.
Multi-screen functionality allows for dual camera production from a single source.
Classroom students, virtual class attendees, and even public speech viewers have been attracted to Kevin's presentations more than ever because of the intuitive interaction offered by Meetboard. It's become such a core component of his lessons that his students are disappointed when given manual instruction. He can present with a more robust level of confidence, knowing that his supporting tools offer everything he needs to be successful.
MOVING FORWARD
Equipped with the right tools, Kevin Madison plans to use Meetboard as the foundation for offering more speeches, in-person conferences, and ministry lessons to his students. Additionally, Kevin plans to offer his Network TV show Treasure in Every Verse Ministry to other Network TV production studios throughout this year to expand his reach. Kevin also plans to introduce Meetboard to members of his workplace executive team for consideration of adding Meetboard as a staple in conference rooms company-wide.
Interested in Meetboard interactive displays? Click here to learn more about it.
---