The new NSD-5502QH displays are our premium selections for digital signage featuring 4K resolution, 700 nits brightness, special anti-glare coating, and flexible landscape and portrait orientation. The displays embed USB playback, various I/O ports, and an Intel SDM slot. The displays provide more value-added features, including Neovo Signage cloud-based signage app, software for worldwide content and devices management, and patented Anti-Burn-in™ technology to prevent image burn-in when static content runs for a long time. The NSD-5502QH digital signage displays are ideally used in airport terminals, retail shops, or large public venues.
EXPERIENCE THE 4K DIFFERENCE
Don't miss a single detail with this powerful 4K digital signage display. View smooth 4K video and images with a new level of detail and clarity. Offering 8.3 million pixels, the NSD-5502QH provides the ultimate digital signage experience.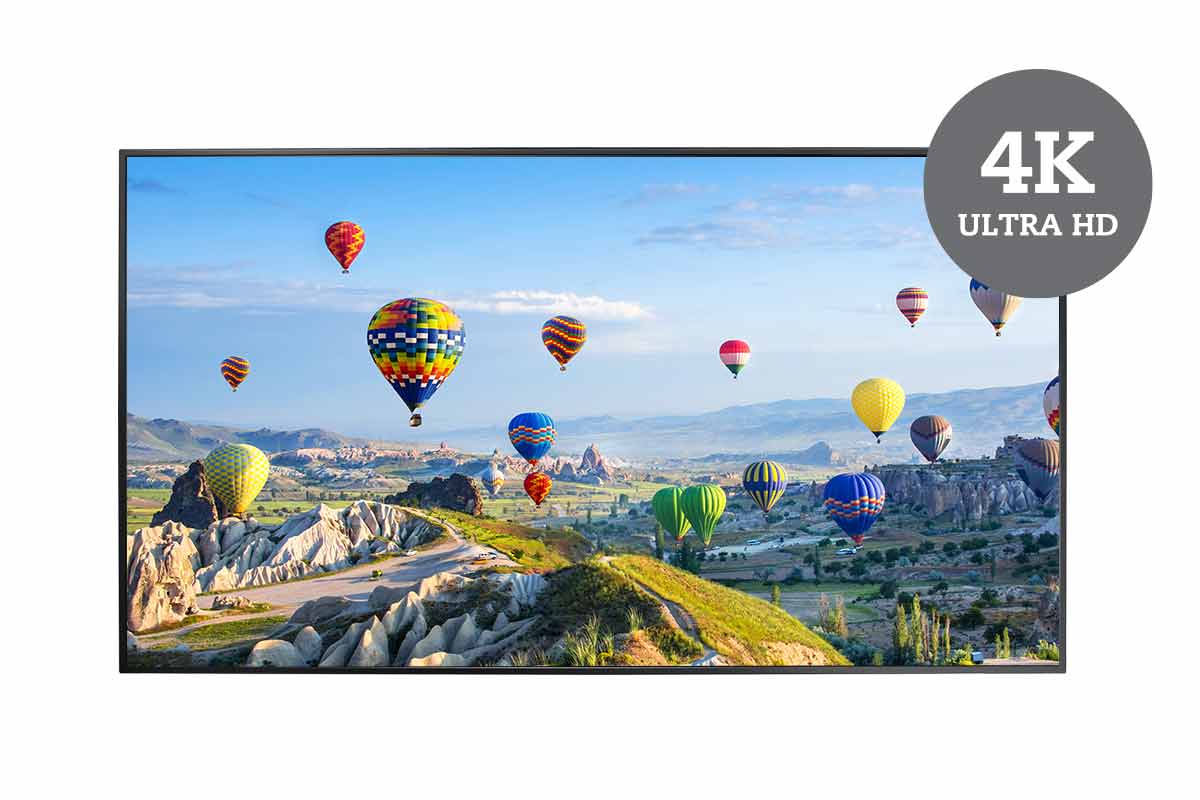 ANTI-GLARE COATING WITH HIGH VISIBILITY
Anti-glare treatment with haze 25%, 1.5% low reflection rate, wide viewing angles and 700 nits high brightness give images with superior clarity and visibility under ambient light.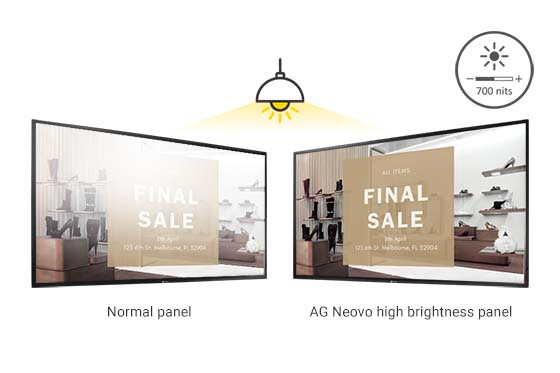 COMMERCIAL PANEL FOR 24/7 USE
Designed for 24/7 operation, NSD-5502QH digital signage displays are produced to meet the highest professional standard and take advantage of superior components to ensure a long product lifetime in demanding environments.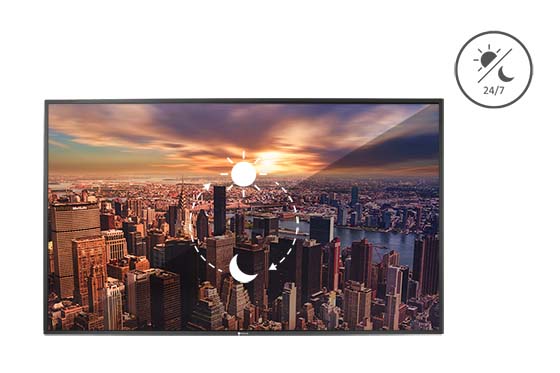 NEOVO SIGNAGE CLOUD-BASED DIGITAL SIGNAGE SOFTWARE
Working exclusively with NSD-5502QH, Neovo Signage cloud-based digital signage platform enables you to create and schedule signage campaigns, manage devices, and update content via a browser no matter where you are. You can add dynamic and interactive signage apps to your campaigns without any technical skills.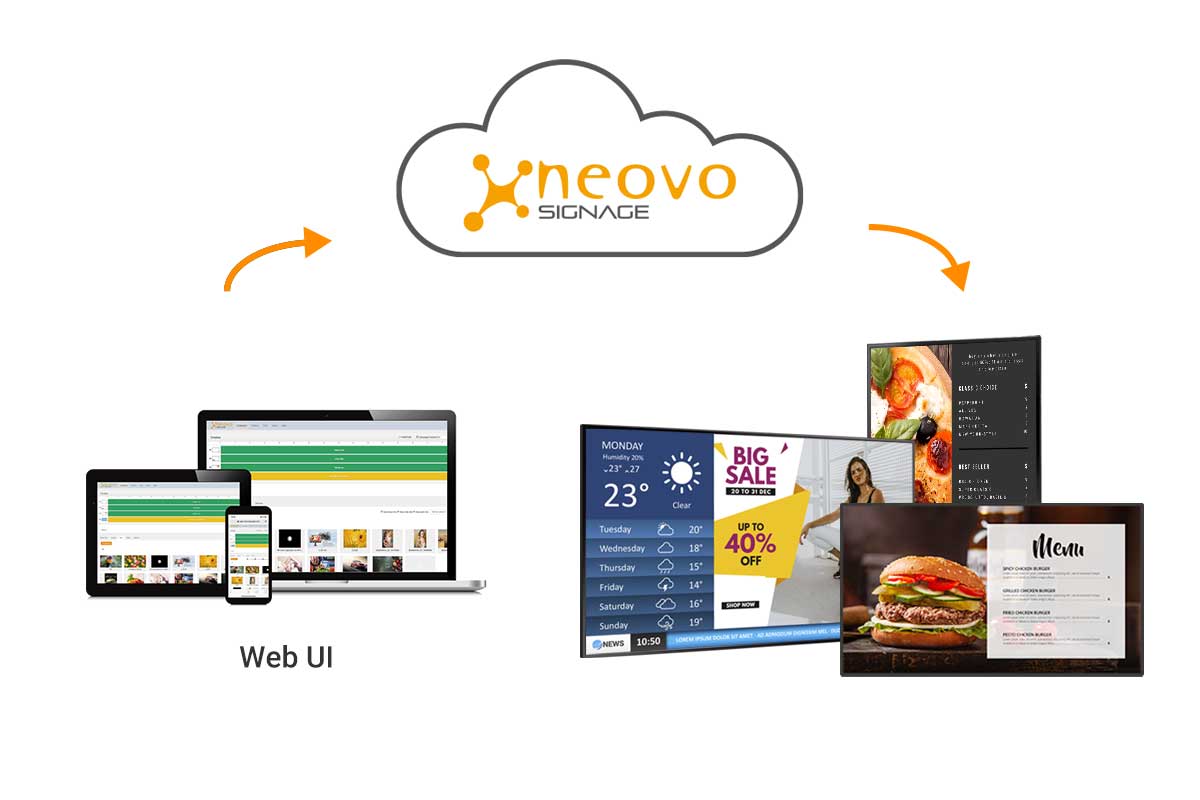 ENHANCED ANDROID-POWERED DIGITAL SIGNAGE PLATFORM
With embedded Android OS, you can integrate different Android-based apps or use the LAN-based CMS as a video source to create a dynamic digital signage experience for your viewers.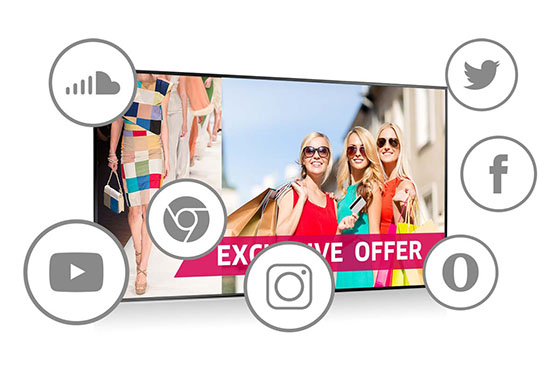 PATENTED ANTI-BURN-IN™ TECHNOLOGY
To combat the effects of traditional LCD burn-in or ghosting, AG Neovo utilises its patented Anti-Burn-in™ Technology to prevent image burn-in and assure the extended life span for displays.
LANDSCAPE/PORTRAIT CAPABILITY
The NSD-5502QH is signage-friendly and can perfectly fit either in a landscape or in a portrait mode, allowing you to experience complete screen orientation flexibility and fulfil the need in different scenarios.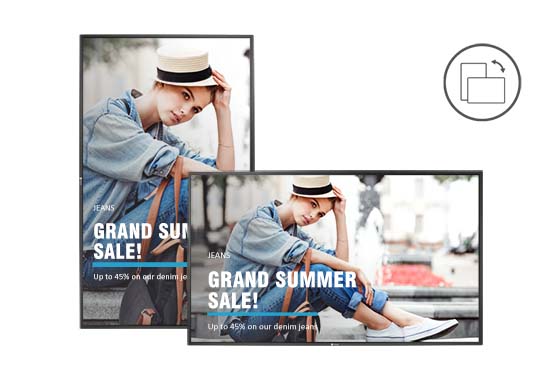 Optional Intel® SDM Capability
The built-in SDM slot is designed for Intel smart display module. The display is ready to create powerful smart signage for more user-friendly and interactive applications.