In this era of rapid digitization and AI technological advancement, ensuring the safety of industrial facilities and public places has become a top priority. Especially today, monitoring systems such as security camera monitors and closed-circuit television monitors have become indispensable tools in the control center. Against this backdrop, the AG Neovo RX/SX series industrial monitors stand out in the market, becoming the preferred choice for those looking for reliable security camera monitors due to exceptional performance.
Table of Contents
Control Center's Role and Importance
Control centers have evolved to be the nerve centers of modern security frameworks. Efficient and reliable equipment, like the AG Neovo RX/SX series monitors, ensures seamless operations in these hubs, leading to enhanced safety and security.
Introduction and Background of AG Neovo RX/SX Series LCD Monitors
AG Neovo has always been dedicated to researching professional display technology and is praised for its durable, high-performance products. The RX/SX series monitors feature a 178° ultra-wide viewing angle, high contrast, and brightness, ensuring exceptional visual effects in various environments. This series is designed specifically for long-duration, continuous monitoring tasks, fully meeting the needs of professional users.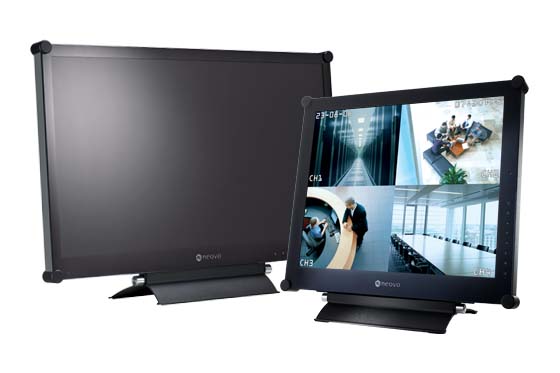 Key Differences Between AG Neovo's RX/SX Series and Regular LCD Monitors
| | | |
| --- | --- | --- |
| Feature/Consideration | AG Neovo RX/SX Series | Regular LCDs |
| Panel and Components | Commercial-grade panel | Typical 16/7 or 8/7 panel |
| Average Lifespan | Minimum of 3 years | Might degrade or deteriorate after just 1 year |
| Connectivity | Variety of options for multifunctional use across devices | Standard connectivity options |
| Control System | Features RS232 control,ideal for control centers | Typically does not have RS232 control |

Note: AG Neovo's RX/SX series is especially designed for professionals in security monitoring scenarios and control centers, providing enhanced functionality compared to regular LCDs.
How Display Technology Addresses Common Issues in Control Centers
The display technology of the RX/SX series, combined with high resolution, offers unprecedented detail and clarity. Whether in low-light or brightly lit situations, it ensures clear and lifelike visuals. Additionally, it boasts excellent response times, capable of displaying real-time footage without any ghosting or afterimages.
Anti-Burn-in™ Technology Ensures Long-Time Use Without Screen Burn-in Issues
AG Neovo's groundbreaking Anti-Burn-in™ technology ensures the screen won't be damaged with prolonged use in control centers. This technology not only guarantees the monitor's longevity and durability but also continuous performance, making it the top choice for those needing reliable security monitors.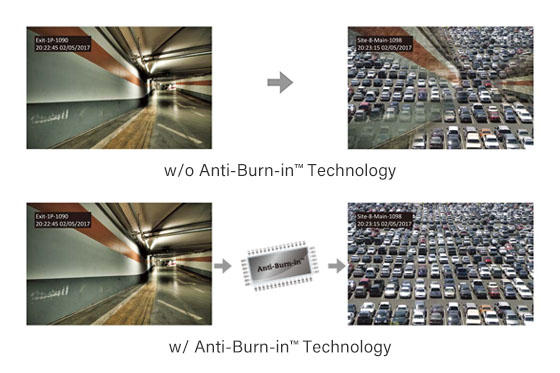 Multiple Display Features and Connectivity for Monitoring Multiple Cameras and Sources
Designed for modern control center requirements, the RX/SX series supports various video inputs and allows users to simultaneously monitor different areas, enhancing its reputation as a top-tier security camera monitor.

Cost-Benefit Analysis of AG Neovo RX/SX Series vs. Regular 24-inch Monitors
| | | |
| --- | --- | --- |
| Item/Consideration | AG Neovo RX-24G | Regular 24-inch Monitors |
| Replacement Labor (3-years) | Not a consideration | 2 x $30 = $60 |
| Converters | No signal converters required | BNC to HDMI adapter = $25 |
| Cables | 100M BNC cable = $50 | 100M HDMI cable = $119 |
| Control System/Functionality | RS232 control functionality | 2 x control system replacements at $30 each = $60 |
With its commercial-grade panel, a variety of video signal inputs, and comprehensive control connectivity, the RX-24G offers a cost-effective solution with fewer potential hidden expenses compared to conventional monitors.
Spotlight on the RX/SX Series Features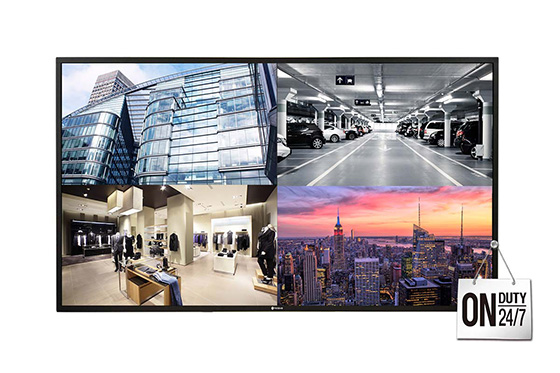 Sleek Design Elements
Flat surface design for a modern look
Intuitive touch-button interface
EcoSmart sensor for energy efficiency
Built to Last
Panel designed for 24/7 continuous operation
Authentic panel module for durability
Protective glass overlay for added resilience
Sturdy metal casing
Backed by a 3-year warranty
Stunning Visual Performance
Anti-Burn-in technology to prevent screen damage
Dedicated CCTV mode for surveillance
Ultra-high resolution for crystal clear visuals
Available in both 4:3 and 16:9 aspect ratios
Static image function to prevent screen burn
Picture-in-Picture (PiP) and Picture-by-Picture (PbP) capabilities for multitasking
Hassle-free Setup and Operation
Variety of input and output options for versatility
RS232 connectivity paired with PID software for enhanced control
BNC pass-through functionality for direct connections
Image rotation feature to adapt to different orientations
Compatible with VESA mount standards for easy installation.
Successful Client Collaboration Case
The successful collaboration between AG Neovo and Axis Communications represents a perfect blend of both companies' outstanding technology and resources. In this partnership, AG Neovo's RX series displays were integrated into an advanced demo vehicle to showcase Axis's advanced monitoring technology, demonstrating the RX series' effectiveness and reliability in real-world scenarios.(Readmore)

Learn more about Security LCD monitors:
7 KEY REASONS TO INVEST IN COMMERCIAL-GRADE SURVEILLANCE MONITORS FOR SECURITY