Case Study: Germany – AG Neovo is on Board with Axis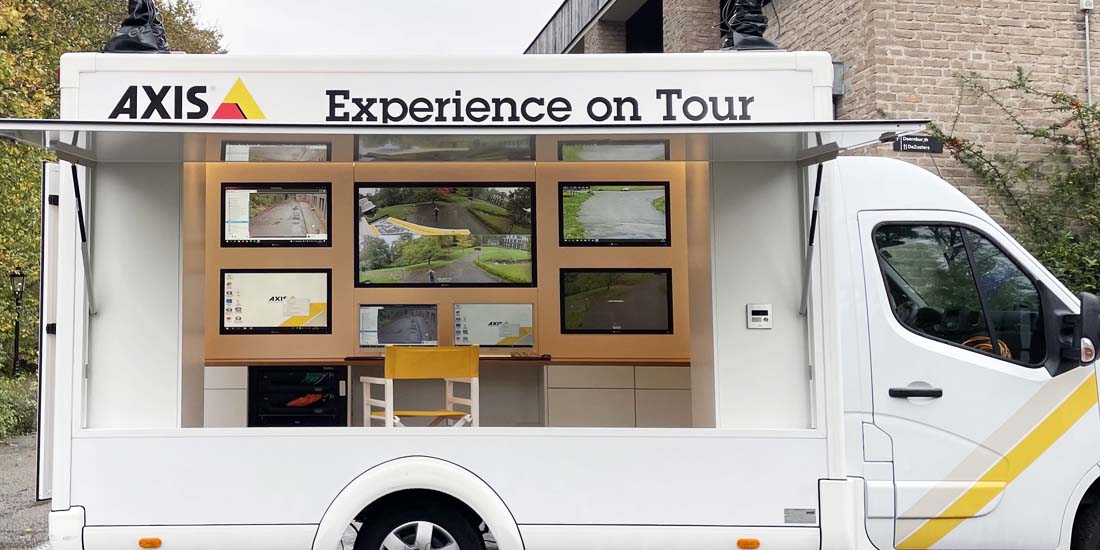 Our show van has so many other technical highlights besides the professional monitors – the curiosity of all market participants will certainly be piqued' "On the road again" with Axis and AG Neovo.

Mr Gordon Grünwald, Distribution Manager Middle Europe, Axis
Client Background
Axis Communications, an industry leader in security cameras and technology solutions, is known for its commitment to innovation and end-to-end security solutions. AG Neovo Technology, a pioneer in monitor technologies, is their valued partner in this project.
Challenge or Problem
The COVID-19 pandemic disrupted traditional methods of informing integrators, installers, and customers about the latest solutions. Face-to-face exhibitions and vendor visits became less feasible. Axis needed to adapt its approach to showcase its advanced security solutions effectively.
Solution
In collaboration with AG Neovo, Axis developed a state-of-the-art show van equipped with cutting-edge technology. AG Neovo's professional monitors played a pivotal role in this innovative solution, ensuring brilliant, fail-safe, and visually appealing displays of videos, presentations, and VMS user interfaces.
Execution Process
Consultations between Axis Communications and AG Neovo's D/A/CH team began in October 2020. Axis focused on showcasing end-to-end solutions, panoramic cameras, and network audio. AG Neovo designed a concept featuring 4K/UHD and Full/HD displays in various sizes.
The standout feature in the show van is the AG Neovo QX-55 monitor, complemented by 4 QX-32 monitors for displaying various camera images and 2 sleek white RX-24G monitors for operators. These monitors, known for their robust construction, NeoV™ protection, and filter glass, are perfect for the demanding environment of the show van.
Results and Benefits
Axis and AG Neovo successfully created a mobile showroom available to Axis partners across D/A/CH, Benelux, and other European countries. The show van offers on-site product and solution demonstrations, providing an immersive experience for visitors. AG Neovo's monitor solutions complement Axis' innovative security systems, offering high brightness, multi-signal inputs, and brilliant images in 4K/UHD and Full HD with Anti-Burn-In™ function.
Client Testimonial
Gordon Grünwald, Distribution Manager Middle Europe at Axis, aptly stated, "Our show van has so many other technical highlights besides the professional monitors – the curiosity of all market participants will certainly be piqued, 'On the road again' with Axis and AG Neovo."
Conclusion
Axis and AG Neovo's collaboration resulted in an impressive mobile showroom that overcomes the challenges of traditional demonstrations. By leveraging AG Neovo's monitor technology, Axis continues to lead in innovation and customer engagement.
Additional Resources
For on-site demonstrations and more information, please contact your Axis representative. Visit our Axis Experience Centers in Ismaning and Rotterdam to explore AG Neovo's monitor solutions alongside Axis security systems.
---