The SX-19G 19-inch 5:4 surveillance monitor is designed for analogue CCTV video monitoring and security systems. It is equipped with analogue and digital connectivity as well as BNC outputs for video looping. Built to last and perform in 24/7 operations, the SX-19G features commercial-grade components, video enhancement controls and AG Neovo's patented Anti-Burn-in™ technology, ensuring high performance and stable image quality. With NeoV™ Optical Glass screen and metal casing, the display is shielded from incidental damage and impact to withstand in critical environments. For those professionals who still use security cameras with a 5:4 aspect ratio, the SX-19G surveillance monitor offers great options to meet security needs.
Perfect Match to 5:4 Analogue Video Footage
The SX-19G surveillance monitor with a 5:4 aspect ratio can perfectly display analogue video signals to conform to NTSC and PAL standards without distorting and stretching images.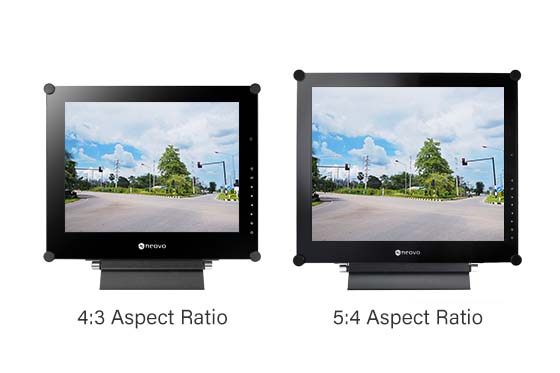 Versatile Connectivity with BNC and HDMI Inputs
This monitor supports analogue (VGA, S-Video, Composite) video inputs and digital (DisplayPort, HDMI, DVI). The Composite (BNC) input/output ports allow connecting CCTV cameras directly to the monitor for instant monitoring and testing while feeding the videos to the DVR system or other devices.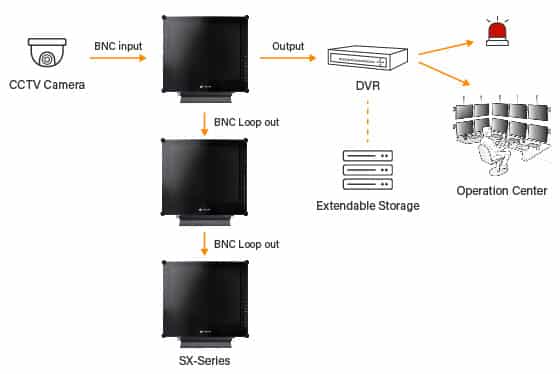 Super Resolution for Crisp Motion Images
To improving the clarity of security footage in real-time, the SX-19G monitor's super-resolution technology can upscale and enhance the images to present more detail in layered texture horizontally and vertically. It essentially makes an image with a higher resolution in a more natural way.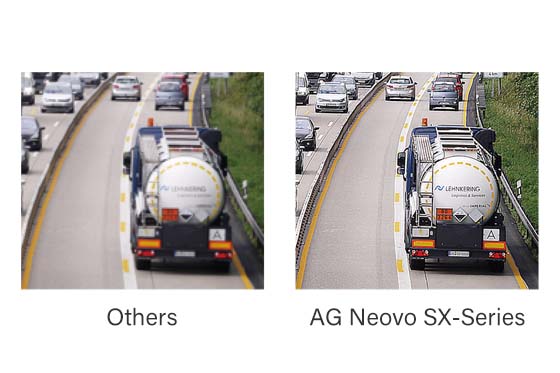 CCTV Mode Enhances Image Clarity in Dark Scenes
AG Neovo's pre-configured CCTV mode can maximise image clarity in low-light footage. Quickly fine-tune your video footage with adjustments for sharpness, saturation, contrast, brightness, and more. Don't waste time testing and re-adjusting constantly, this product already has it all figured out!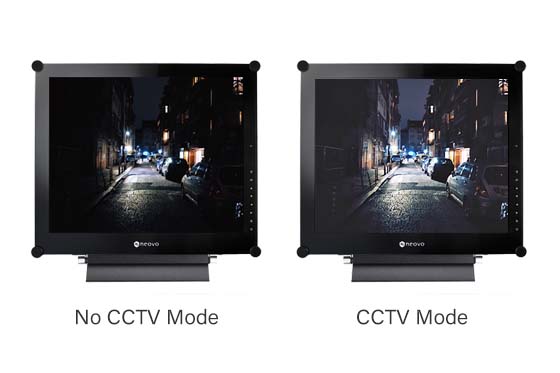 Night Mode Keeps Image Clear in Low-light Environment
While applying to critical surveillance, like sailing in the dark seas, users have higher image clarity requirements for the monitors in low-light environments. Night Mode features dimming the backlight level in dark environments and remaining the clear viewing with high visibility for reliable navigation.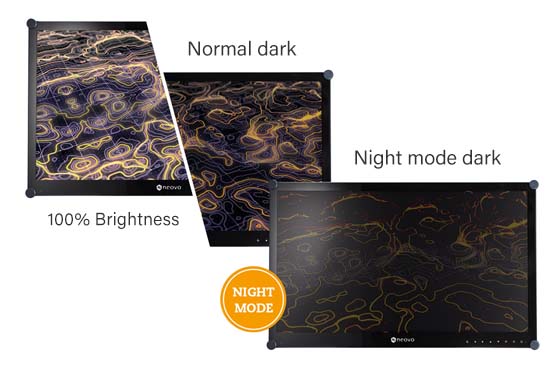 LCD Screen Burn In Prevention
AG Neovo's patented Anti-Burn-in technology tackles LCD burn-in effect, prevents a ghost image on the screen. It assures an extended lifespan for the security monitors and secure user's investment.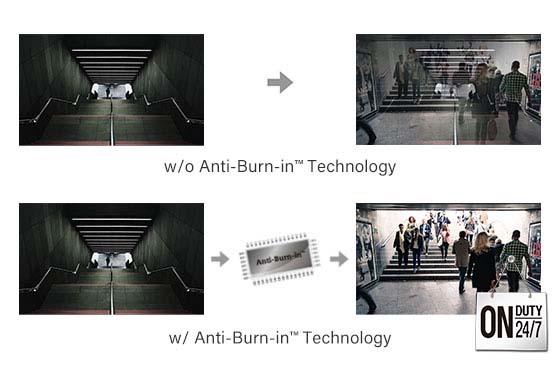 Robust Design for 24/7 Surveillance Use
A professional security monitor is built for 24/7 use in challenging conditions. The SX-19G surveillance monitor fits with NeoV Optical Glass screen and durable metal casing to prevent scratching and high-velocity impacts, also providing enhanced heat dissipation to ensure proper operation.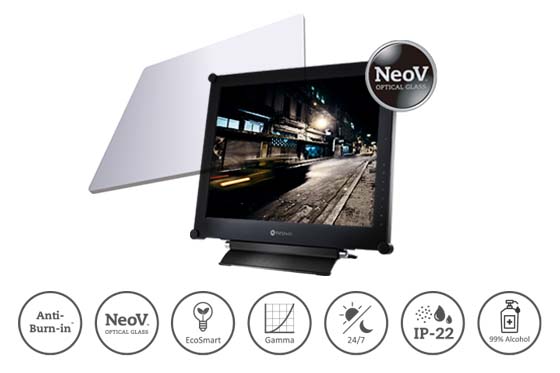 PID Command & Ctrl for RS232 System Integration
PID Command & Ctrl software helps integrators easily control and integrate the SX-17G security monitor via RS232 connections. Users can quickly find command codes for programming into external control systems for remote management, OSD-related settings, and easy control on deployed displays on its simple and intuitive interface.