AG Neovo discreetly displaying excellence in Mercedes Benz' showrooms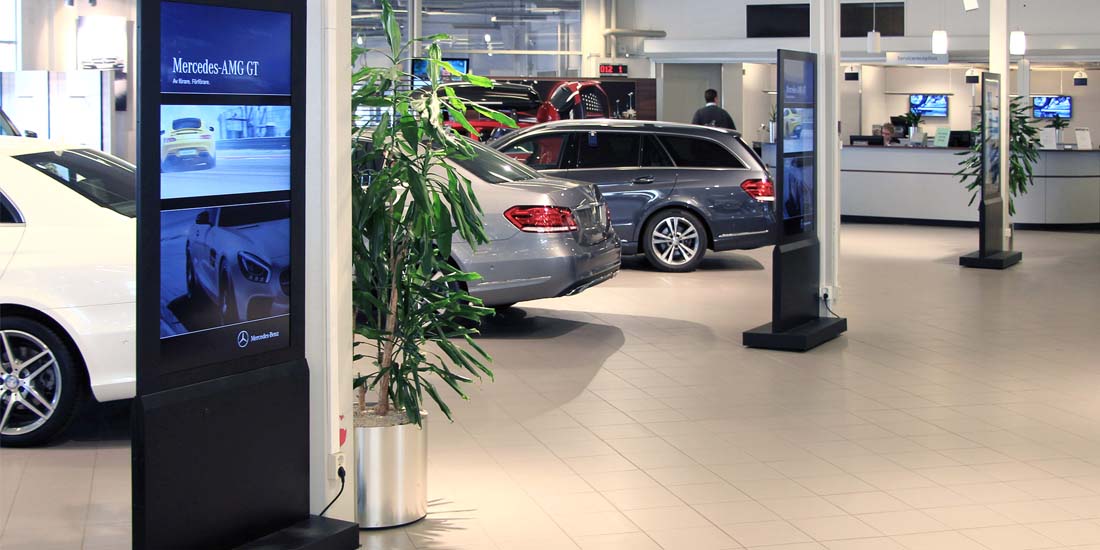 The extremely thin dual-sided display really makes the DF-55 stand out. AG Neovo has created a product that proves the old saying, 'less is more!

- Mr. Ulf Dunker from Zetadisplay
The best or nothing
Since the first petrol-powered car was introduced in 1886, Mercedes Benz has been famous for quality, durability and luxury. Their slogan, "the best or nothing" is built around these pillars and offers an important insight into the way they choose a business partner.
Displaying excellence without compromising on experience
When Mercedes first approached Zetadisplay, they were searching for a way to display multiple videos and messages in their showrooms without compromising on customer experience. For the best results, they needed something that was slim and discreet with a display that reflects the excellence Mercedes' customers have come to expect. Zetadisplay is a digital signage system integrator with vast knowledge of the industry so they quickly understood that AG Neovo would have the right solution for Mercedes'.
DF-55 – Slim, elegant and modern, A perfect match
AG Neovo endeavoured to find the perfect solution and taking every need into consideration, decided upon the DF-55. With a 23.4mm slimline profile, it is easy for Mercedes' clients to glide through the showroom and concentrate on discovering their new favourite car without distractions but when the time is right, the DF-55's double-sided display with a 3000:1 contrast ratio ensures they are viewing crisp videos and messages, suited to their needs.
Making sure Mercedes are sending the right message to the right client is made easy with modern dual-screen technology. Powered using 2 HDMI connections that feed 2 full HD panels, the DF-55 allows Mercedes the opportunity to display multiple messages at the same time without taking up lots of space.
A Mercedes Benz is renowned for its elegant, sophisticated, yet modern looks and a Mercedes' client expects the same standards from a showroom. That's why the DF-55 looks as good as it performs. Its modern free-standing design compliments Mercedes' high-end brand image and the moveable floor stand makes it easy to place it in the right position for any occasion.
90 installations, just the beginning
Since the start of the project in 2016 until the date of this article in 2018, 90 units of the DF-55 have been installed in Mercedes' showrooms, the first of which can be seen in Malmö, Sweden. Mr Ulf Dunker from Zetadisplay; who helped choose the DF-55 said "The extremely thin dual-sided display really makes the DF-55 stand out. AG Neovo has created a product that proves the old saying, 'less is more!'"
Customers have really noticed the impact of the DF-55 and Mercedes has noticed it too, which is why more displays are being installed in showrooms worldwide.
---
You might also be interested in
View All