AG Neovo's TX-3202 and TX-4302 built-in touch through-glass capability add additional security to touch screens. It does this by adding extra touch protection. Kiosks can use the TX-3202 and TX-4302 either in portrait or landscape orientation.
With the touch through-glass feature, you can creatively display content. This increases engagement and boosts sales. Using a touch screen, customers can customise their shopping or dining experiences. Consumers expect interactive shopping experiences, so retail stores install touchscreen displays.
Viewers might not transact right away. But engaged customers are likely to buy your product or service in the future. These touch screens not only increase footfall and sales. But they also educate your customer about what you have to offer.
The Benefits of Through-Glass Ιnteractive Touch Screens
As well as through-glass touch screen security, AG Neovo's two-way screens are unique. Here are some benefits of these screens:
Attracting pass-by Customers
They transform traditional one-way display windows into interactive and engaging two-way interfaces, inspiring customers to interact and enter your store.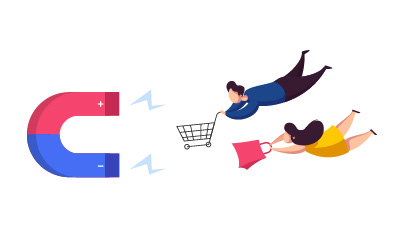 Entertaining and Informative to in-store customers
TX-3202 and TX-4302 can help creatively display entertaining or informative content to attract, inform, and entertain in-store customers.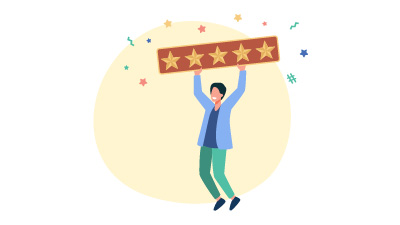 Protect your property
The TX-3202 and TX-4302 can be placed behind a layer of protective glass, preventing scratching and damage, and the screen is still usable. Placement behind glass also decreases the risk of theft.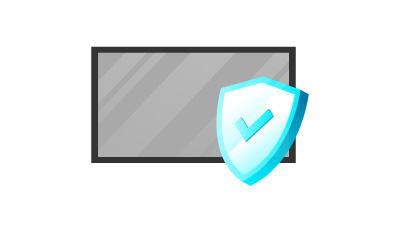 Effortless Installation
Fewer tools are needed to set up the AG Neovo TX-3202 and TX-4302, unlike those that need touch film, cable, driver software, and calibration tools.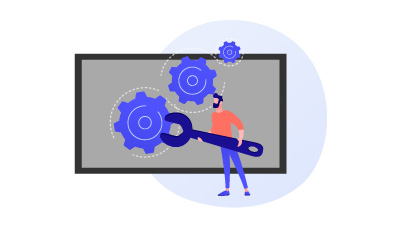 Easy to Use
Built-in Through-Glass touch screens are easy to use for all users, even those who aren't good with modern technology.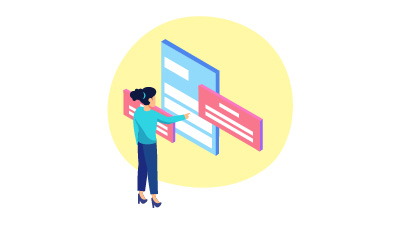 9 Ways TX–3202 and TX-4302 Touch Screens Can Boost Your Business
As we've discussed, the AG Neovo's TX-3202 and TX-4302 are incredibly versatile and offer various options to present new ideas to customers and visitors. But what are the best ways to showcase the incredible through-glass touch screen technology? Here are nine examples of how this innovative technology can boost your business.
#1. Interactive Window Display
Retailers face a real obstacle when trying to entice shoppers to visit their stores. Digital store window displays are the job of retailers and visual merchandisers. Suppose you design visual merchandising for the display window. You have to appeal to the customer's desires.
Thus, your visual merchandising must contain your brand values. It must also create a unique customer experience while directing to these products. Retailers also need to get more creative when it comes to signage. As well as attracting customers' attention, interactive digital signage should also engage.
Visual merchandising displays can incorporate strong call-to-action messages. For instance, you could have a sign that says 'Try me' or 'Touch to Search'. This makes product displays more engaging, inspiring interaction and boosting sales.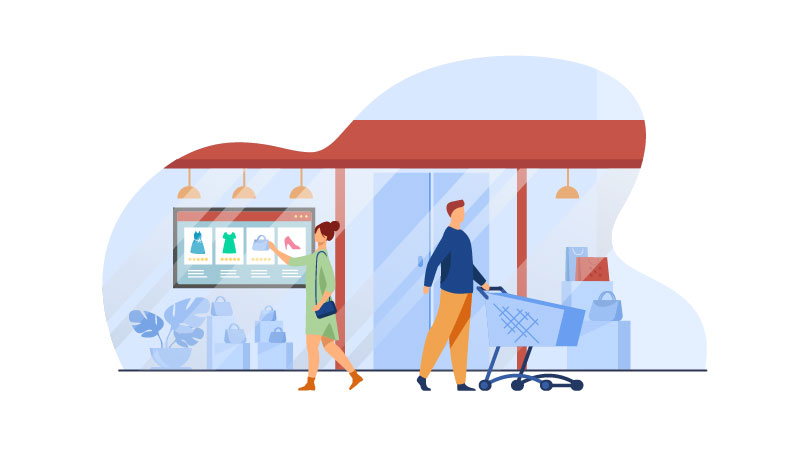 The touch through-glass feature used in the TX-3202 and TX-4302 allows consumers to shop with ease. They only need to walk past a shop window. In doing so, retailers can provide shoppers with a way to browse the store catalogue.
They can also see the latest products and deals and place an order. Interactive window displays have the impact that everyone is striving to achieve. It is a fun, new way for retailers to connect with consumers.
With the pandemic on everyone's mind, safety is paramount. You can install the TX-3202 or TX-4302 touch screens behind a glass layer or a store window. It is easy to clean the exterior of the store window to keep it safe and clean.
#2. Loyalty Kiosk
Bond Brand Loyalty's research shows 77% of consumers see loyalty programs as a reason to keep doing business with brands. A retailer's loyalty reward program provides essential information about marketing and operations.
Customer loyalty kiosks help retailers manage their loyalty programs. They also engage customers through various methods at their Point of Sale. As well, customer loyalty kiosks also allow for printing vouchers, receipts, and loyalty cards.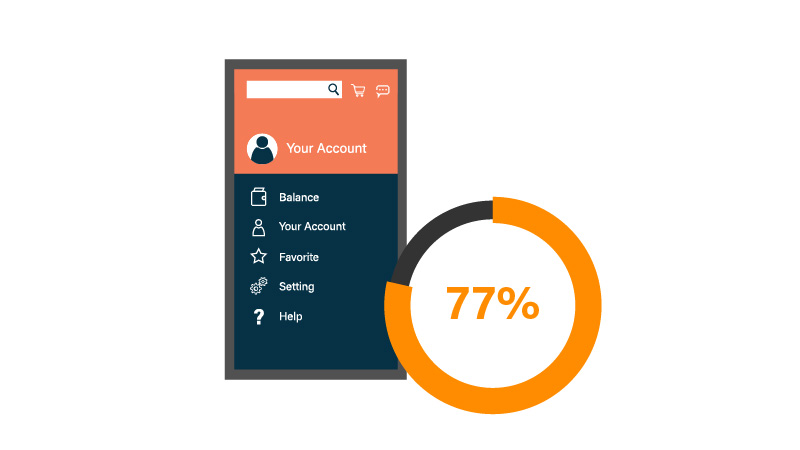 They also allow for verifying customer identification, checking advertising, promotional, and giveaways. Further, they also allow for processing payments and order entries.
And they maximise customer satisfaction and revenues. They do this by using proactive and individualised marketing that increases repurchase probabilities.
TX-3202 and TX-4302 touch screens allow retailers to extend the duration of their loyalty programs. In doing so, they increase the time customers spend shopping. As more people in joining loyalty reward programs, the call-to-action is more valuable.
#3. Information Kiosk
Retailers use information kiosks for advertising currently trending products. They do this to attract customers to that product.
Information kiosks give your customers in-depth information. Often this is more than your staff can provide if your product line is extensive.
Using in-store technology to increase customer interaction leads to increased conversions. Customers can interact with information kiosk screens to learn about a product.
They can also view product demos, take part in surveys, and take quizzes. Or, they can see how a product looks and find the appropriate products to buy. The retail demo kiosks provide many product demos, enhancing the immersive experience.
You can use TX-3202 and TX-4302 touch screens that allow customers to interact. This can be with a demo video of a product that is too large to showcase at the venue. Or, in another example, the product is too complicated to show in real-time.
73% of Americans reported that they are more likely to buy an item or service after watching videos. Thus, showing them how the product works increases their likelihood of purchasing it.
Creating interactive and adaptive content is essential. Information needs to be relevant to the individual's needs.
Customers wish to have control over what they see. You can use TX-3202 and TX-4302 through-glass touch screens to make engaging and creative displays. These work for you, not against you.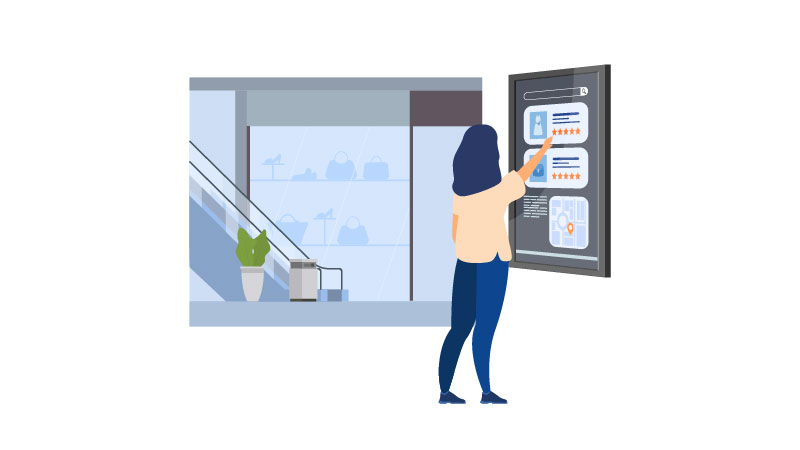 #4. Museum Kiosk
Museum kiosks work well in both paid and free attractions. Examples such as city museums saw an increase in visitors through their exhibitions. Museums are prime candidates for interactive kiosks as they showcase the intangible.
Interactive museum kiosks have been instrumental in strengthening visitor experiences during museum visits. Everyone knows they provide a more enjoyable learning experience.
In turn, this has assisted in enhancing museum revenue. It then delivers better value for money for the museum and its visitors.
Interactive kiosks are a great solution for visitors who suffer from social anxiety. Especially when interacting with another person or feel rushed, they can engage at their own pace.
Improving the experience for those who need extra time and support is a given. It increases repeat business and repeats visits.
Interactive touch screen kiosks within museums provide greater interactive information about an exhibit. Kiosks could, for example, display textual information about an exhibit.
They can also display images and videos that will change over time as a research project changes. They're also great maps when used as a Wayfinder in the right places.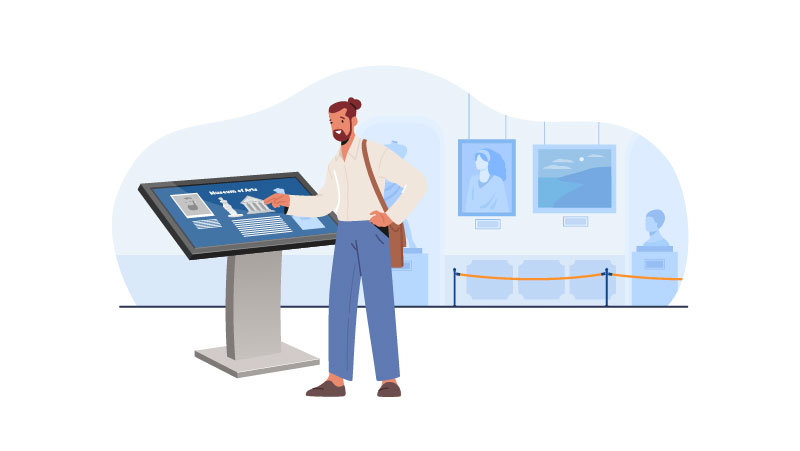 #5. Self-Service Kiosk
Self-service kiosks are customisable, which is their beauty. Customers can check inventory that they can order then or later. They can also customise options without having to wait for sales associates.
A RedPoint Global survey found that 63% expect personalised service as standard. Customers can get the products and services they want faster than waiting for a staff member.
Self-service kiosks provide customers with convenient services. These include product searching, company information, and targeted offers. Thus, consumers will have more awareness, and retailers can expand their business channels.
Self-service is the choice of 66% of shoppers, according to a SOTI survey. Of which, self-checkout was the most preferred solution.
Self-service kiosks provide retailers with the capability to improve their experiences. These kiosks allow for products to come from the warehouse instead of the shop floor.
Advanced technological solutions, such as QR codes being used for interactive digital signage, RFID, and smartphone transactions, also help. These help consumers to pay with smartphones, gift cards, and credit or debit cards.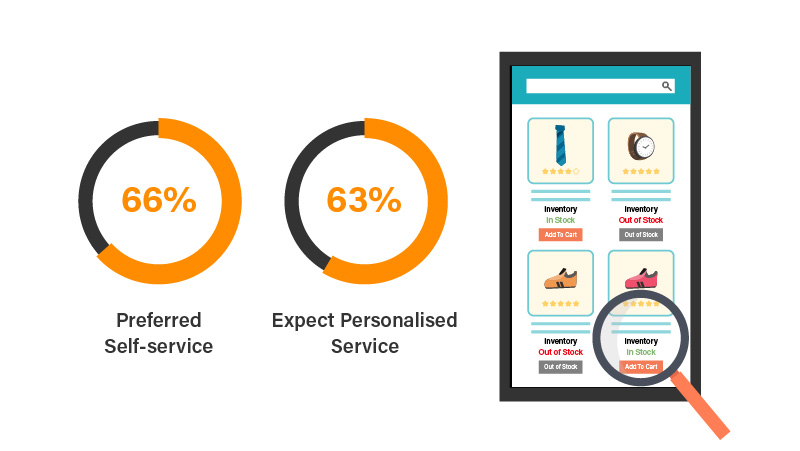 #6. Touch Screen Table
Retail establishments or restaurants always look for new ways to engage their customers. New and immersive shopping and dining experiences make use of interactive tables.
Integrating touch screens into tables also brings an element of fun. In retail or restaurants, touch screen tables show customers your products or services. It gives them a lasting memorable impression of your business for repeat custom.
Branded games on touch tables are fun for customers. These also help create deeper brand awareness and recognition. Tables are a great way to connect customers with your brand while entertaining them at the same time.
You can brand the TX-3202 and TX-4302 touch screen displays to make a unique experience. It is especially helpful if you have several locations. Branded experiences create cohesion between locations.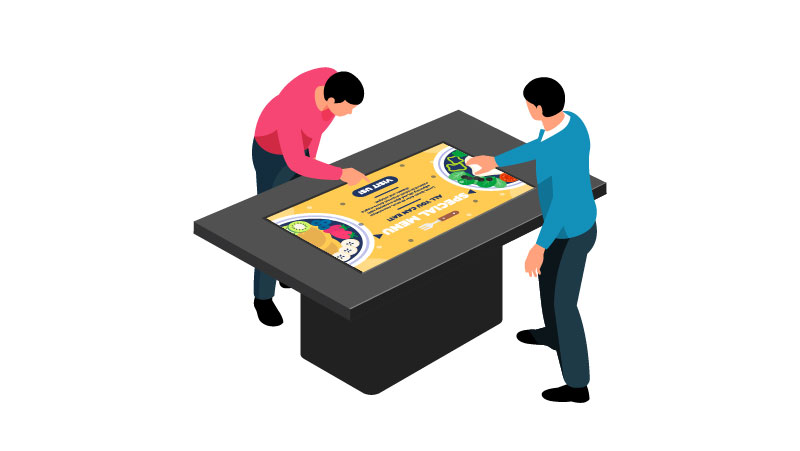 #7. Self-Ordering Kiosk
The quick-service industry is transforming due to self-ordering. Consider self-serve kiosks that allow customers to interact with the menu. Here they can place customised orders. This setup improves efficiency and reduces wait times for everyone involved.
Also, food establishments can provide information through kiosks that menus and signs struggle to achieve. For example, if someone has a niche request, the staff don't need to bring out another menu from the back, as it's all there.
Through-glass touch screens, TX-3202 and TX-4302 provide a convenient method of encasing touch screens with glass to prevent water splashes on the screens in restaurants; this layer of security also enhances the durability of the screens.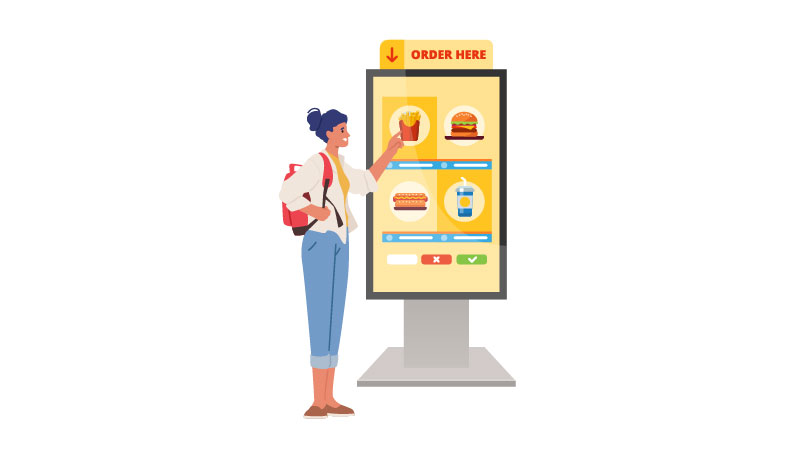 #8. Digital POP Display
By using a digital POP display, you can catch customers' attention and increase revenue. POP displays are most effective if they are at an endcap.
44% of the visitors find these interactive in-store displays attractive to the eyes as they pass the displays. Besides showcasing items, you also encourage impulse purchases.
Digital POP displays with interactive capabilities can make advertisements smarter. The TX-3202 and TX-4302 through-glass touch screens are deployable in many areas throughout the store. Doing this creates a more compelling shopping experience that will drive new sales.
Determine which marketing messages are the most effective. Then, use time of day fluctuations to change them as your customers change.
Digital POP displays encourage retail shoppers to stop in for a few minutes and add a few more items to their cart. This increases Average Transaction Value (ATV) as well as bounce-back and thus footfall.
Consider running promotions in your brick-and-mortar stores. These promotions should encourage repeat visits and encourage same-day purchases.
As an alternative, you can adopt the TX-3202 and TX-4302 touch display for the digital POP display as a customer prospecting point. There, you can collect their email address and later add them to a mailing list.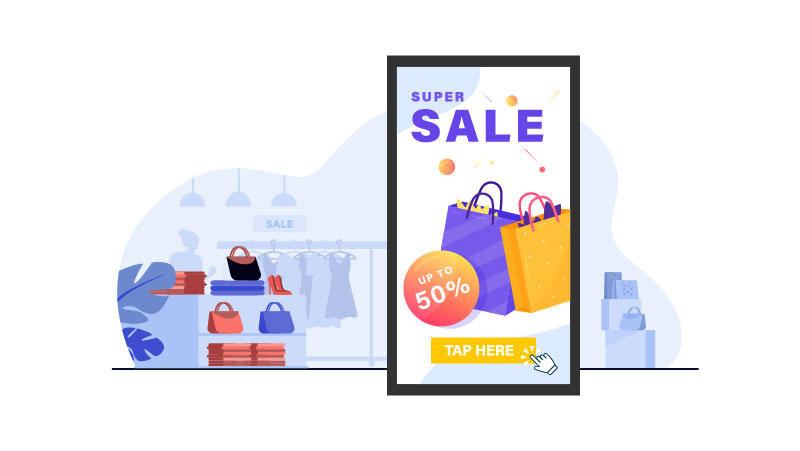 #9. Self Check-In Kiosk
Self check-in kiosks help businesses like hotels in enhancing the guest's experience. As well as introducing more convenience, eliminating frustrating queues results in a frictionless check-in experience. It contributes to the modernisation of the hotel experience. Hotel staff ends up with more time to meet and greet guests and encourage upgrades.
Using TX-3202 and TX-4302 touch screens for self-check-in kiosks cuts labour costs and improves efficiency. That's true whether on the front desk or in the back office. As well as automating data processing, kiosks reduce stress on others, such as night staff.
Self check-in kiosks enable guests to upgrade services at their convenience. It is a great alternative to selling things face-to-face for guests who prefer less staff interaction.
Additionally, kiosks can add upgrades straight away to customers' bills. This allows for impulsive purchasing and is a great way to add revenue streams.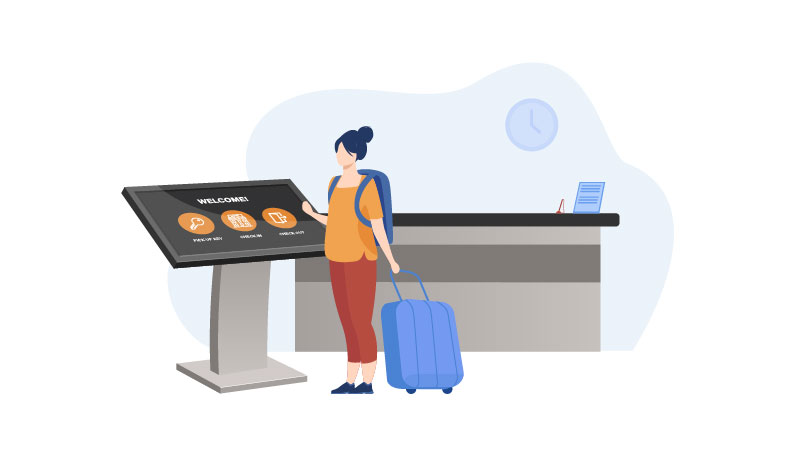 Embrace Touch Through-Glass Technology Today
Unlike traditional marketing and advertising, digital signage is both informative and entertaining.
Customers today expect dynamic, personalised product offerings. Interactive digital signage filled with product information provides this much-needed immersive experience.
The use of touch screens is very effective in winning over consumers and specific tasks. Its built-in touch through-glass functionality allows the TX-3202 and TX-4302 touch screens flexibility. It offers businesses innovative ways of displaying engaging content. It ranges anywhere from retail stores to restaurants and museums to hotels.
With TX-3202 and TX-4302, users embark on an emotional journey unparalleled. Businesses boost revenue and achieve a competitive edge, building customer loyalty for life. Contact us to invest in the TX-3202 and TX-4302 for your business today and bring the future of marketing and merchandising to your business.