Android OS and Cloud-based Digital Signage Software
With embedded Android OS, you can easily integrate apps from a variety of supported Android apps. For additional convenience, you are able to assign the app or preloaded LAN-based digital signage software as a video source to enhance the flexibility of your digital signage application. Using the integrated HTML5 browser, you can broadcast online or cloud-based content. Through the cloud-based signage software, you can create and schedule digital signage campaigns, manage devices, and update content via a browser no matter where you are via its intuitive interface without any technical skills.
*Android OS and cloud-based digital signage software are limited to specific models.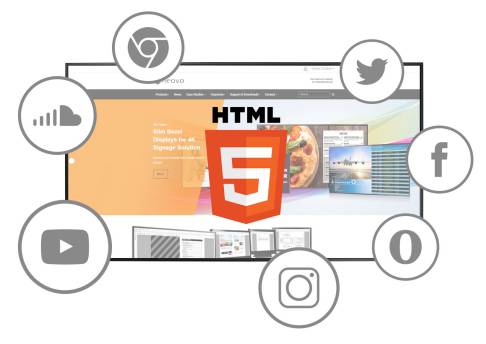 24 / 7 Displays for Non-stop Digital Signage Operations
AG Neovo offers large format LCD displays with high quality, ensuring a reliable and robust non-stop operation for various applications. This is particularly important for some solutions that require 24 / 7 continuous system uptime, and the applications that are often deployed in harsh environments.
High Brightness Commercial-grade Panel
The large displays adopt commercial-grade panels, offering pristine images that maximize visibility and making videos shown on the screens stand out in any digital signage setting. The 700 nits high brightness and anti-reflective panels ensure life-like visuals, all complemented by a 178-degree viewing angle that delivers superior clarity images even in a semi-outdoor environment with ambient light.
4K UHD Resolution For Clear and Detailed Image Quality
Don't miss a single detail with this powerful 4K commercial display. View smooth 4K video and images with a new level of detail and clarity. Offering 8.3 million pixels, the commercial display with UHD resolution provides the ultimate digital signage experience.
Patented Anti-Burn-In™ Technology
Since in some scenarios, the large format display in the market is required to run for 24/7 operation, especially in the airport, transportation, and alike, the screens keep broadcasting the same or still images, where an uninterrupted image displayed for a long period of time results in permanent discoloration of the display panel, causing permanent "Ghost Images" (also known as image sticking and burn-in effect). To counter the effects of LCD burn-in or "ghosting", AG Neovo utilises propriety Anti-Burn-in Technology and it has been tested and proven to prevent image burn-in and assure an extended life-span for the display.