As modern laptops become thinner and thinner for portable use between home and offices, the need for output to external monitors has been increasing owing to the rise in remote and hybrid working during the pandemic.
USB-C monitors are quickly becoming a popular alternative for users who own laptops and other devices that only have USB Type-C ports, as they allow the user to directly plug their laptop into the monitor. With new EU rules mandating the use of USB-C chargers for all mobile phones, tablets and cameras in the EU starting from 2024, the monitors integrated with USB-C connectivity will be fast becoming the standard as expected. In this article, we will explore the ever-growing world of USB-C monitors and discuss their different types, as well as their compatibility and things to look out for.
Table of contents
What is a USB-C Monitor?
A USB-C monitor integrates a USB-C connector as the display interface and uses a USB-C cable to connect to devices such as laptops, tablets and mobile phones. With 2-way communication, the device can transfer video and audio, as well as data to the connected monitor and the monitor can deliver power to the device while only using one cord.
Advantages of USB-C Monitors
Only one cable in your setup
Future-proofed against future devices
Power laptops and other devices directly from the monitor
Types of USB-C Monitors
Every USB-C monitor is a little bit different and may include features such as a dock, power delivery, KVM, or all of the above. Saying that, most monitors with USB-C support fall into one of the four following categories:
1.    USB-C Port Monitors without Power delivery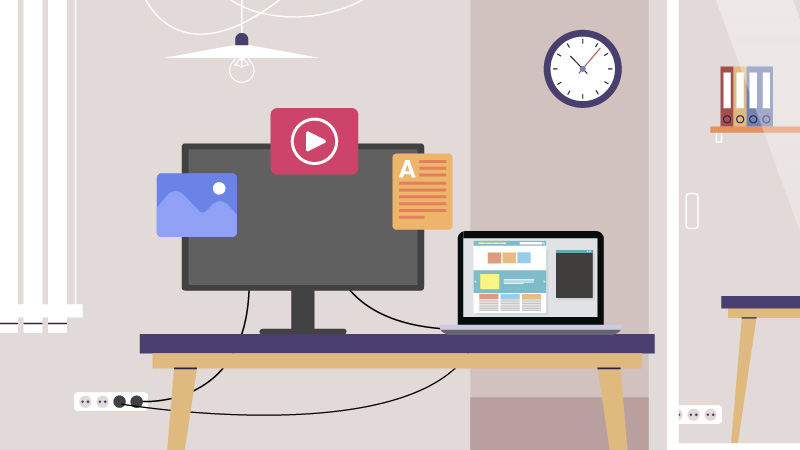 A few USB-C monitors are very basic in their capabilities and only receive video, audio and data via the USB-C port, or only receive data. Some of these monitors may also integrate with other USB ports.
Despite their limitations, this type of USB-C monitor is designed for the use to those wanting to display multimedia content and transfer data at high speed at fixed locations for office work and entertaining. Since this type of USB-C monitor does not have power delivery, you will need to separately power your device.
2.    USB-C Monitors with Power Delivery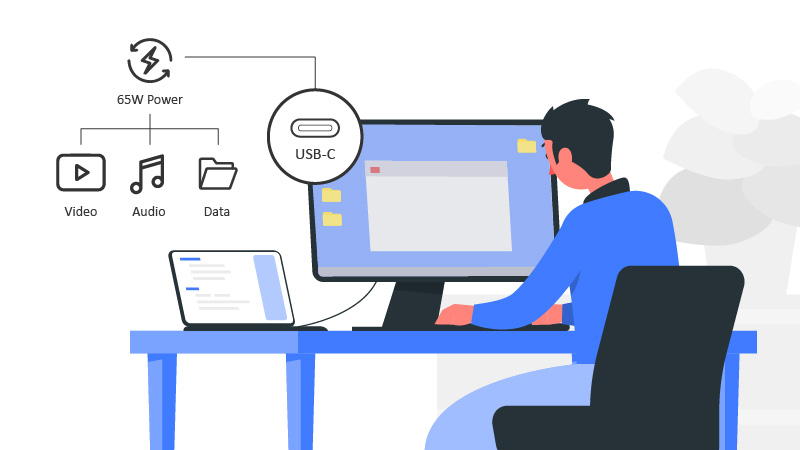 With the USB-C technology improvement on monitors, laptops and mobile devices, the USB-C monitors with power delivery are now popular with users who highly rely on laptops, tablets and phones, and want a tidy working environment with few cables.
This is because USB-C monitors with power delivery can charge the connected device whilst working as a secondary display, resulting in one less cable. Users who frequently take their device between their home and the office also benefit greatly from this kind of monitor, since when moving their laptop they don't need to plug in so many cables.
Also, the images, videos or data viewed on tablets and phones can also be easily presented on the monitor screen via the USB-C connection; at the same time, you don't need to worry about the device power almost running out.
When choosing a USB-C monitor with power delivery, it's important to make sure it can power your device; some only supply enough power to charge a mobile device (below 65W), whereas others (above 65W) are able to power a laptop. You also need to make sure your device's USB-C port supports power delivery, but most modern laptops do allow charging via USB-C.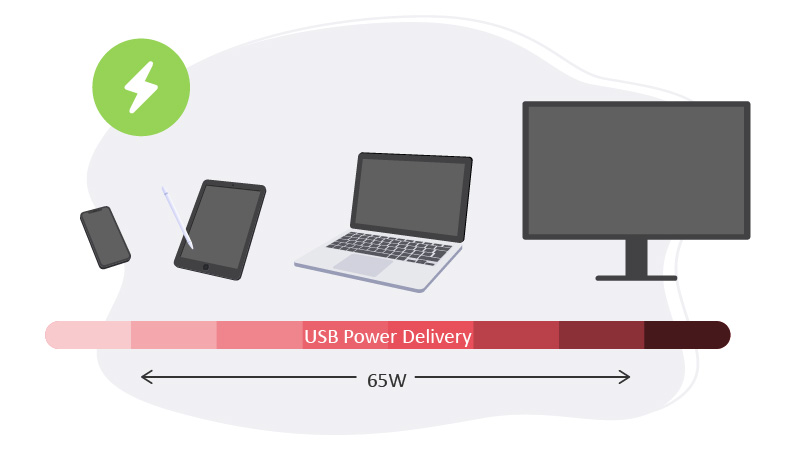 3.    USB-C Docking Monitors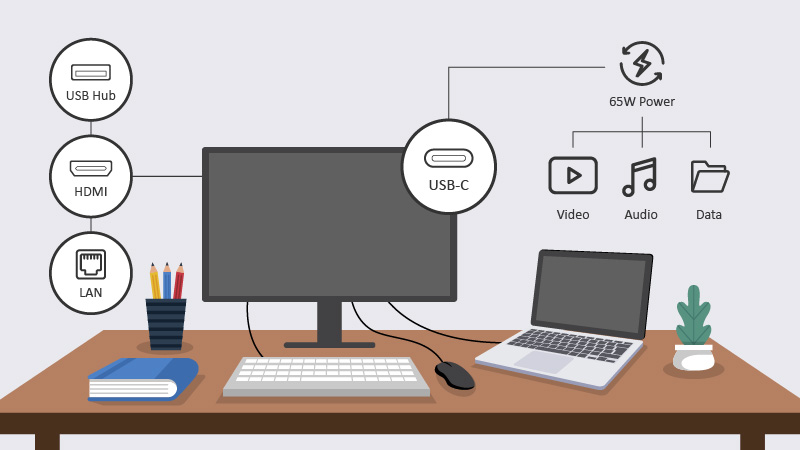 In addition to power delivery functionality and the ability to transfer video, audio, and data, USB-C docking monitors offer additional ports on the monitors themselves. These additional ports can be used for wired internet connections, thumb drives, and peripherals such as keyboards, mice, microphones and headphones, amongst others.
Since the ports are on the monitor, as soon as you plug the USB-C cable into your laptop, everything is connected, and messy wires can be hidden away easily. As many modern laptops only have USB-C ports, having a series of useful ports on the monitor itself such as USB-A and Ethernet can boost the usability of your device.
4.    USB-C Monitors with KVM Switch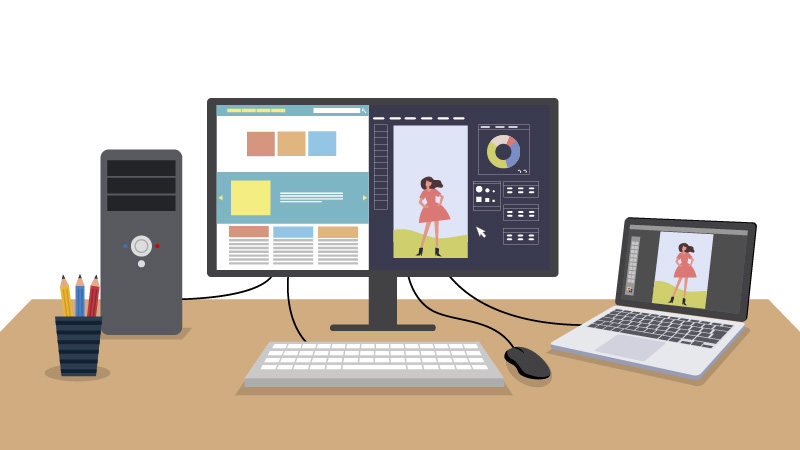 If you use two different computers connected to the same monitor, and want to be able to control both of them with the same keyboard and mouse, then a USB-C monitor with a KVM switch is a perfect choice.
Just like a USB-C docking monitor, you plug all your peripherals directly into the monitor, but when you want to switch between devices you can click a single button, and the monitor will automatically switch your peripherals over to the other device. Buying a USB-C KVM monitor is often cheaper than buying a regular monitor and a KVM separately, and results in a much tidier working environment.
What to Check Before Buying a USB-C Monitor
USB-C is the future, but it comes in many different iterations, and therefore users must be very careful not to purchase the wrong monitor. Remember to always:
1.    The USB-C Types of Your Laptops
Some laptop users may find out why the screen shows no signal even connecting monitors and devices via USB-C cables. Or why are my laptops not charged? Then you need to check the types of USB-C ports on your laptop first.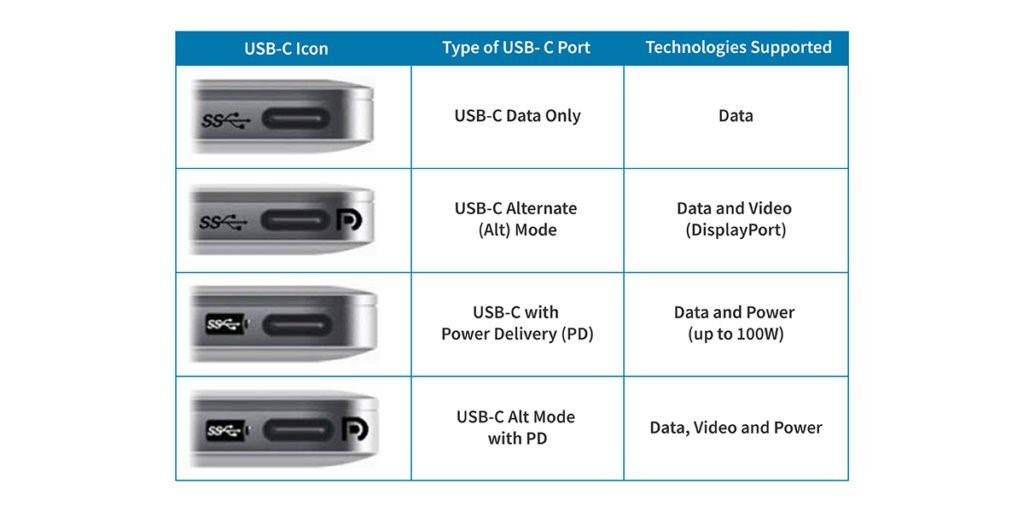 If the device you wish to connect to your USB-C monitor does not have USB-C Alt Mode support, then you won't be able to use its USB-C port to output display to your monitor. Remember to ensure all your devices support USB-C Alt Mode.
2.    Check Your Chosen Monitor Can Power Your Device
USB-C monitors with power delivery are not all the same; some only supply enough power to charge a mobile device (below 60W), whereas others (60W-90W) are able to power a laptop. Check your laptop's specifications and compare them with the monitor's power delivery output before buying.
Final Thoughts
It's the right time to have a USB-C monitor at home or at the office; even if you aren't using a USB-C monitor yet, you will be soon. Your next laptop will likely be integrated with USB-C.
And, if you are going to purchase a new monitor for productive work or visual excitement, it will be great to choose a future-proof one.
You may also get additional benefits out of a USB-C monitor even if your laptop doesn't have a USB-C port for display. If you have a phone or tablet with a USB-C port, you may be able to output your device to a big screen using a simple USB-C to USB-C cable that you likely already have, and if your monitor supports power delivery, you can charge your device at the same time too.