AG Neovo on board with Axis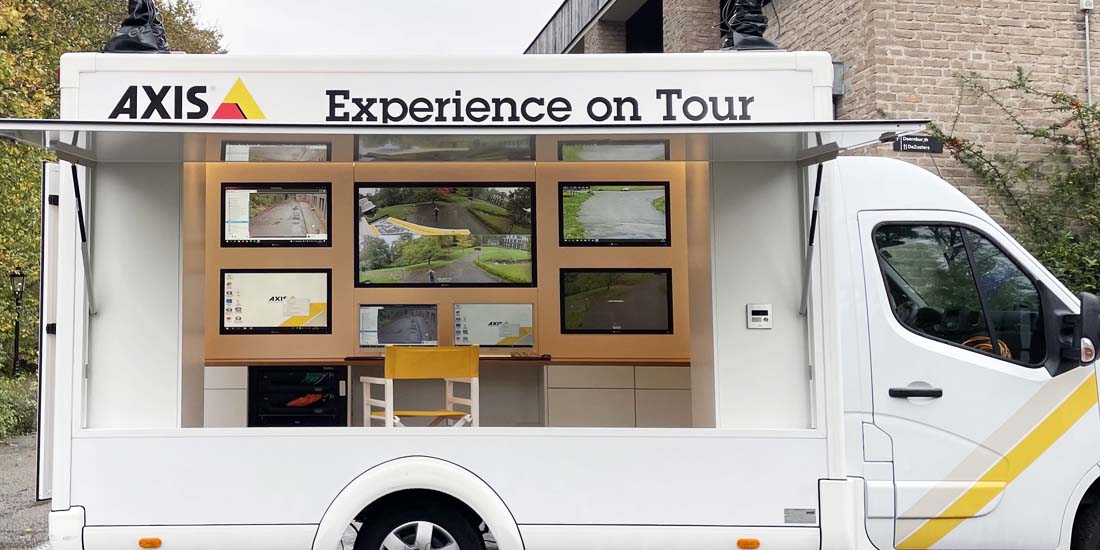 Our show van has so many other technical highlights besides the professional monitors – the curiosity of all market participants will certainly be piqued' "On the road again" with Axis and AG Neovo.

Mr Gordon Grünwald, Distribution Manager Middle Europe, Axis
Several changes during and after the pandemic call for new strategies as to how integrators, installers and end customers can be informed about the newest solutions through personal dialogue. Face-to-face exhibitions and visits to the vendors' demo rooms are becoming more difficult and less in demand. For these reasons, the innovative technology leader for security cameras, Axis Communications, has built a richly equipped show van and has involved its partner for monitor technologies, AG Neovo Technology, early on in the project.

Consultations between Axis Communications in Ismaning and the D/A/CH team of AG Neovo about the concept started in October 2020. From the beginning, the focus on the part of Axis was on end-to-end solutions, panoramic cameras and network audio. An elementary requirement was and is the brilliant, fail-safe and visually appealing display of videos, presentations and VMS user interfaces. AG Neovo has developed a concept for Axis with 4K/UHD and Full/HD displays in various sizes.

The pivotal "eye-catcher" for Axis guests is the AG Neovo QX-55, flanked by 4 QX-32 for various camera images and 2 sleek white RX-24G as operator monitors. Because of their robust construction with metal housing and the NeoV™ protection and filter glass, these models are pre-destined for use in this so-called AEC show van. The QX-Series and RX-Series are well known among professional users, not only for such demanding stress situations, including consistent 24/7 operations but also for brilliant images in 4K/UHD and Full HD with Anti-Burn-In™ function, high brightness and multi-signal inputs.

This way Axis and AG Neovo have, after the Axis Experience Centers (AEC) in Ismaning and Rotterdam, also developed a joint mobile showroom, which is available for Axis partners in D/A/CH, Benelux and other countries in Europe. For on-site product and solution demonstrations, please contact your Axis representative. Advanced AG Neovo monitor solutions with innovative Axis security systems, e.g., desktop, interactivity or video walls, can also still be viewed live in Ismaning near Munich.

Gordon Grünwald, Distribution Manager Middle Europe at Axis, emphasizes: "Our show van has so many other technical highlights besides the professional monitors – the curiosity of all market participants will certainly be piqued, "On the road again' with Axis and AG Neovo."
---
You might also be interested in
View All