AG Neovo, displaying lessons through schools of fish on the Sulehav fishing trawler in Denmark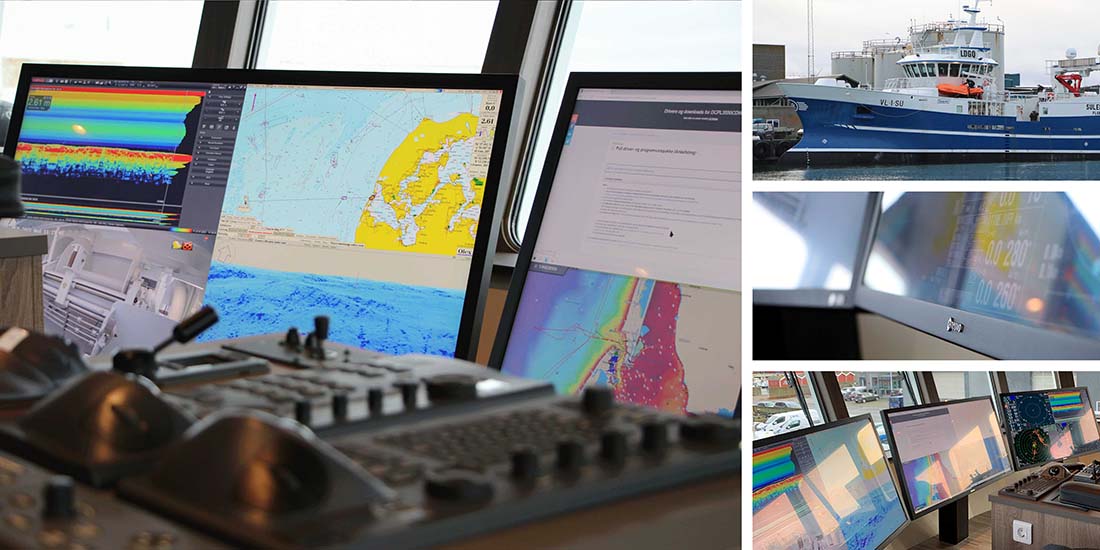 Working with Vest-EI is a little like your right hand working with your left, they both know what the other is about to do and they have full trust in the results. That's why we're always able to provide the best results for our happy customers at AG Neovo

- Jørgen Abildgaard, AG Neovo Nordic & UK Sales Manager
What does it take to sail the seas, to overcome storms, to be truly free?
What does it take? Well, it takes a great fishing trawler named Sulehav and it takes the support of ever evolving technology. We all know that the sea can be a dangerous place. Winds can change in an instant and the smoothest oceans can suddenly seem like the deepest, scariest water we ever did see. Yet, the development of technology and the advancement in fishing vessels has made it much safer with a far higher chance of success. To pursue the best, the team at Vest-El knew they needed to work with the best so they turned to their trusted display manufacturer, AG Neovo, for support.
Looking over the horizon for more than fish
Every journey has a purpose when you are part of the 8-10 member crew on the 500Gt (Gross tonnage) Sulehav. Yes, as a trawler, the team are monitoring schools of fish but with each voyage, comes so much more. Each voyage demands surveillance of technical information on the vessel, monitoring outside of the deck from the ship's bridge and of course, constant weather observations. Vest-El asked AG Neovo to support them with displays that were, as always, easily integrated with their own software, which controls all monitors easily and simultaneously. This, combined with AG Neovo command codes, made changing between inputs, adjusting backlight, brightness and changing between full or split screen seamless.
All aboard! 3 X AG Neovo QX-55 Starboard and 4 port side
These 7 QX-55 displays, accompanied by 1 QX-43, are located on both the starboard and the port side of the bridge. Each display has a role to play. Their split-screen function makes multi-tasking much easier and clarity is never an issue with a 4K UHD display that can also be switched back to one full screen for extra focus on a particular task. This ever-reliable technology is backed up by an ultra-low backlight with specially developed Marine Firmware, NeoV™ Optical Glass protection and Anti-Burn-in™ technology to make the displays last longer. Even when the time does come to upgrade, it will be an easy change as AG Neovo is always advancing but these displays are designed to have a consistent look and feel.
Getting along swimmingly
Vest-El electrifies the market with their electrical solutions for the maritime sector but to make sure that their work is always on display, they need a partner that they can rely on. AG Neovo are always there to make sure that vessels like the Sulehav are looked after in the short, medium and long-term, which is why Vest-El keep coming back.
"Working with Vest-EI is a little like your right hand working with your left, they both know what the other is about to do and they have full trust in the results. That's why we're always able to provide the best results for our happy customers at AG Neovo." – Jørgen Abildgaard, AG Neovo Nordic & UK Sales Manager
---
You might also be interested in
View All