AG Neovo, Always the First Name on HockeyClub Feijenoord's Team Sheet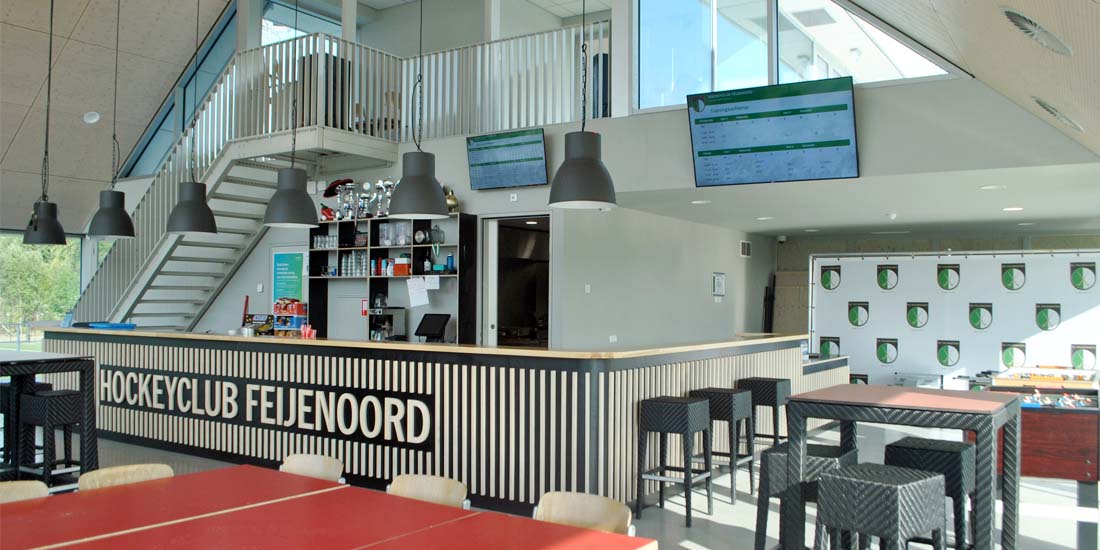 We know that our friends at HC Feijenoord are a visionary club and we wanted to help their vision be seen, which is why we opted for the full digital signage solution that they now love.

- Jack Yu, AG Neovo EMEA CEO
Diversity in harmony
Hockey, like most sports is in essence, simple. If you score more goals than the opposing team, you win. The power of a great team however is not always so simple to see. Success for HC Feijenoord is not only about what happens on the pitch but also about what happens beyond. From just a few hockey sticks in 2010, HC Feijenoord has built a team of 450 members, embracing the diversity of the community it is forged in and helping that community to work in harmony towards a common goal.
More than a game
Playing for and watching HC Feijenoord is in itself a great way to bring people together but for this club, that wasn't quite enough. They wanted their members to have a place where they could spend more time together; discussing tactics, team development, community activities and more. They wanted a second home for their members. That's why they built a clubhouse and by using AG Neovo as their technology partner, they knew they would create something extra special.
Neovo Signage Software and AG Neovo Displays, the perfect combination
The clarity, quality and superiority of the PM-65 and PM-32 are easy to see but the content was just as important when setting up the right environment for the clubhouse members. That's why AG Neovo suggested that HC Feijenoord takes advantage of their Neovo Signage Software. With the PM-32 displaying the menu above the bar, HC Feijenoord is able to use the user-friendly content manager to easily send customizable messages and videos to the PM-65. This keeps their members informed and entertained at the same time.
Screen-time can be social too
When you want to see the date of the next match, you check the display, when you want to know when the next training session is, you check the display, when you want to watch Feyenoord play football, you check the display, when you want to see presentation slides, you check the display, when you want to see a display that is extra-special, you check… the display. This AG Neovo solution has been a huge success for HC Feijenoord, it gives them the opportunity to create conversations every time their guests check the displays while allowing sponsors and advertisers to promote their products to a captivated audience.
"We know that our friends at HC Feijenoord are a visionary club and we wanted to help their vision be seen, which is why we opted for the full digital signage solution that they now love." Jack Yu – AG Neovo EMEA CEO.
If you'd like a tailored digital signage solution that helps you to reach your audience, make sure you speak to AG Neovo today. Visit https://solutions.agneovo.com/gl/solutions/neovo-signage to find out more.
---
You might also be interested in
View All