Kenmerken voor oogcomfort van de LA-serie, een reeks schermen die werd ontworpen voor dagelijks gebruik. Meerdere aansluitopties (DisplayPort, HDMI en VGA) waardoor diverse multimediatoepassingen worden aangevuld met de flexibiliteit om te kiezen voor een beeldverhouding van 4:3 of 16:9. Ze beschikken over een brede kijkhoek, een voortreffelijke contrastverhouding en uitzonderlijke kleurprestaties. Ze beloven een aangename en prettige visuele ervaring, op het werk of thuis.
Oogcomfort
Oogcomfort staat hoog in de lijst van de sterke punten die de LA-serie definieert. De flikkervrije achtergrondverlichting en de blauwlichtfilter van de LA-serie garanderen een comfortabele kijkervaring door de oogbelasting na lange gebruiksperioden te verminderen. Een fijn afgestemd overdrive-circuit vermindert aanzienlijke schaduw- en wazige beelden zodat video's er zuiver en scherp uit blijven zien.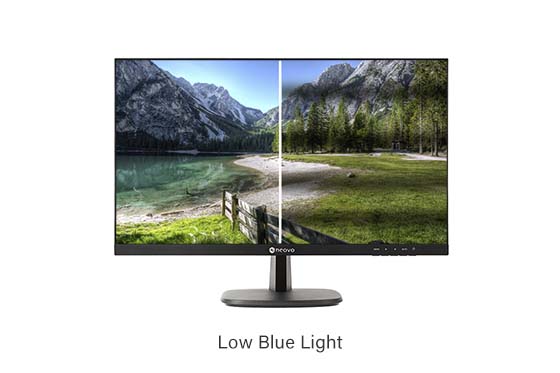 Flexibele verbindings- en multimediaopties
Veelzijdigheid in de verbinding zorgt voor een immense flexibiliteit. Dankzij de HDMI-, DisplayPort- en VGA-ingangsopties, kunt u gemakkelijk een scherm van de LA-serie aansluiten op uw huidige of oudere randapparaten, zoals pc's, laptops of mediaspelers op de werkplek of thuis.
Audiovisueel multimedia-amusement
Een contrastverhouding van 20.000.000:1, een nauwgezette kleurtemperatuur en vooraf ingestelde beeldmodusinstellingen voor het lezen van teksten, het bladeren door webpagina's of het bekijken van video's, maken de LA-serie tot een competent multimediaplatform. Ongeacht of u video's bekijkt of muziek beluistert, kunt u rekenen op de ingebouwde luidsprekers of op de oortelefoon.