TX-2401 White touchskærmen anvender PCAP-touchteknologi, der er relativt upåvirket af overfladeforurening, og som tillader 10-punkts multi-touchfunktioner, hvilket giver en nøjagtig og responsiv touch-oplevelse. Den kan endog betjenes med latexhandsker. Med en strømforsyning af medicinsk kvalitet samt alsidige tilslutningsmuligheder (fx DisplayPort, HDMI og VGA-indgange) er TX-2401 White bygget til fleksibel brug som fx til patientindtjekning, patientkøstyring, medicinske forskningslaboratorier eller medicinske computervogne. Skærmen har desuden IP65- og IK08-klassificeringer for fronten, metalkabinet og en kant-til-kant 7H glasbelægning i hærdet glas, hvilket forbedrer holdbarheden ved kontinuerlig drift i sundhedsplejen.
10-Point PCAP Touch Screen
The TX-2401 White touch screen adopts PCAP touch technology with 10-point multi-touch capabilities that are unaffected by contamination, offering a fast, accurate, and responsive touch experience. The seamless touch experience is identical to that of smartphones and tablets, and is even responsive to latex gloves.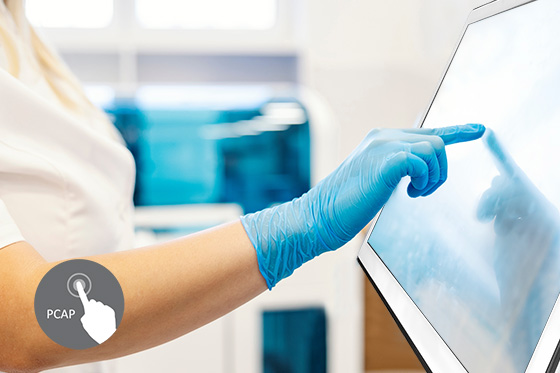 Forbedret sikkerhed med strømforsyning af medicinsk kvalitet
Med overholdelse af DS/EN 60601-1-standarden sikrer strømforsyningen dit personales og patienters sikkerhed i kliniske omgivelser og forhindrer elektriske stød samt energirelaterede og varmerelaterede risici.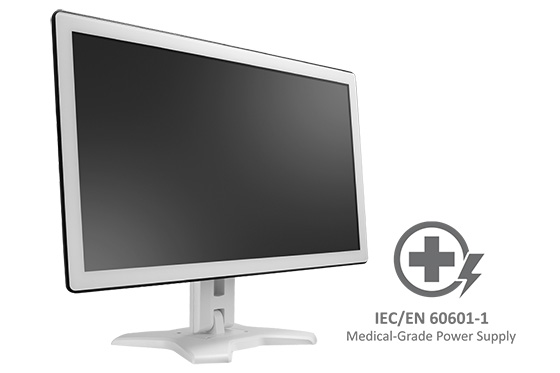 Let at vedligeholde til non-stop brug
Et panel i kommerciel kvalitet, komponenter af høj kvalitet og en 7H ridsefast hærdet glasskærm sikrer, at skærmen kan bruges i døgndrift. Touchskærmen kan rengøres med alkohol, hvilket giver mulighed for hyppig rengøring, så du kan opretholde sikre og sunde omgivelser for dit personale og dine patienter.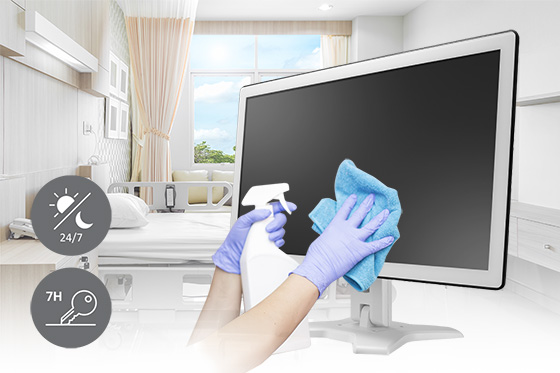 Front IP65 Dust and Water Protection
The TX-2401 White multi-touch monitor with a front-sided IP65 rating is designed to protect from dust and liquid spills, making it ideal for high-use public locations.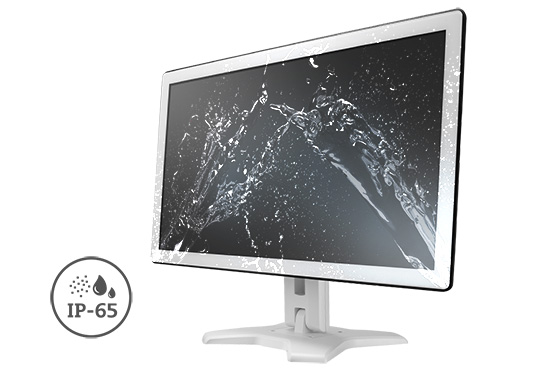 Impact-Resistant Against Vandalism
The touch display with an IK08 rating and metal casing prevents damage from impacts or acts of vandalism in high-traffic areas, ensuring a long service life.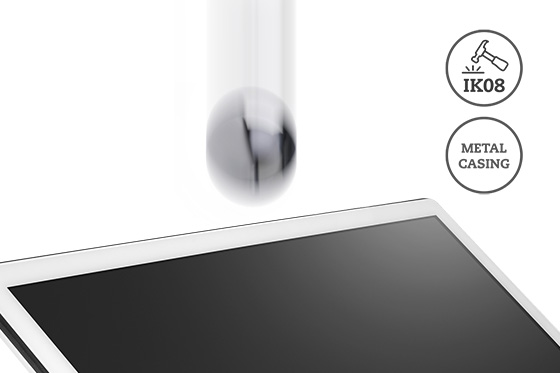 Flere layouts til offentlig adgang
Takket være VESA-kompatibilitet tilbyder TX-2401 White fleksible monteringsmuligheder som fx skrivebordsmontering, fastgørelse til en skærmarm eller integration i en medicinsk vogn. Det medfølgende ergonomiske stativ giver mulighed for en betydelig hældningsjustering på -2-180 grader, hvilket giver yderligere fleksibilitet ved brug. Skærmen giver en 178 graders bred betragtningsvinkel med en ensartet farveydeevne for bedre visning.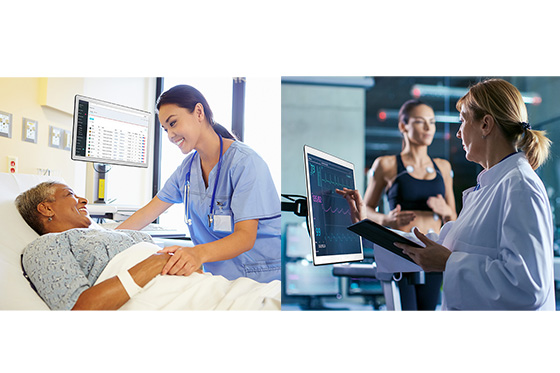 Versatile Connectivity
The TX-2401 White provides maximum versatility and enables users to connect to their own devices, such as a high-performance PC or media player, using the DisplayPort, HDMI, or VGA inputs.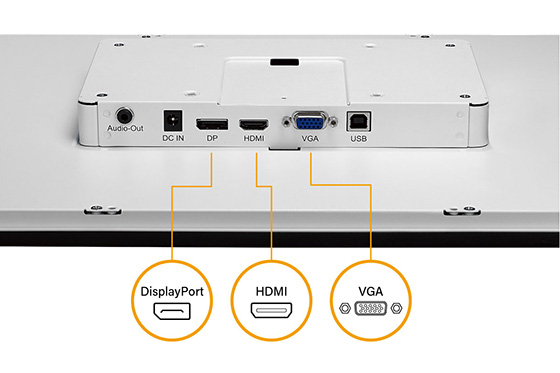 Cable Management
A specially designed monitor stand with integrated cable management keeps cables organized, prevents them from interfering when adjusting the screen, and provides a clutter-free space.
Seamless integration
Touch support works with various operating systems, compatible with Windows, Linux, macOS, and certain Android versions. This enables more choice of the operating system you use.